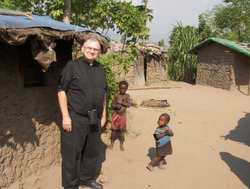 I just do what God leads me to do
Bujumbura, Burundi, Africa (PRWEB) February 12, 2008
Rev. Dave Beaman is a missionary who co-founded and incorporated a non-profit church organization, designated by the Internal Revenue Service of the United States as a Public Charity. Through that organization, he works to feed and educate children of the Batwa people in Burundi, Africa.
When Rev. Dave found that his appeals were not producing much in the way of donations, he decided to try his hand at webmarketing, finding that he could make more that way for the benefit of the children who desperately need his help than he could from donations.
Today, Rev. Dave is able to send all the children of the Batwa people to school every year and see to it that they get one hot meal a day, the only meal of the day for most of them.
"It is our goal," says Rev. Dave, "to keep these children, who otherwise would die from starvation, alive and to provide schooling for them, followed by either vocational training or university studies. By doing that, we give them what they need to escape from poverty and become self-supporting, productive members of their society."
Rev. Dave started his online marketing by establishing a web traffic exchange, eMarketTraffic. As time passed, he went on to establish other websites of his own, and began to do affiliate marketing as well.
Rev. Dave accepts no salary for his missionary work, relying on his wife's income for his personal support. "My wife, Grace, is a saint," says Rev. Dave, "She works hard to keeps our heads above water and donates anything we can spare to the children."
All of the income generated by Rev. Dave's traffic exchange and his other websites, such as Home Sweet Income, goes to support his missionary work. He doesn't even take reimbursement for his operating expenses, which his wife pays out of her salary as a project manager for a software company that supplies applications for use by public utilities.
It is difficult to understand how Rev. Dave finds the time to do all that he does. Not only does he do the very time consuming webmarketing, but he also handles all the administrative and business aspects of operating the non-profit corporation under which he does his missionary work. When Rev. Dave is not in Africa, he can be found in his home office in Pitt County, just outside Greenville, North Carolina.
"I just do what God leads me to do," says Rev. Dave. "He makes it possible and He deserves all the credit for anything that gets accomplished."
###