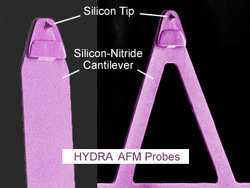 HYDRA probes offer the best of both worlds with their soft Silicon-Nitride cantilevers and sharp Silicon tips that feature the same well-defined shape as the sharpest Silicon probes on the market
Phoenix, AZ (PRWEB) February 13, 2008
Nanoscience Instruments today announced the launch of a new line of Silicon-Nitride probes for Atomic Force Microscopes (AFMs). The new HYDRA series is available world-wide and fills a need in the market for AFM probes specifically designed for imaging soft materials such as biological and polymeric samples.
HYDRA series probes feature a unique, patent-pending design that combines low stress, silicon-nitride cantilevers with sharp Silicon tips (radii of less than 10nm). Offered in a variety of spring constants, they are ideal for applications ranging from highly sensitive force curve measurements to soft contact mode and gentle fluid tapping mode experiments.
HYDRA probes are available with a V-shaped Si3N4 cantilever or a rectangular Si3N4 cantilever. The V-shaped model is available with either a narrow or wide cantilever and all models are offered with an optional back-side gold reflex coating. HYDRA's industry-standard chip design ensures compatibility with all standard AFMs including those by Veeco, Asylum Research, Agilent, and others.
Biophysicists, biologists, and many other AFM users are excited about the new HYDRA line of probes since it is tailored to their specialty applications. These users prefer soft cantilevers for contact mode and fluid tapping mode imaging but don't want to sacrifice tip sharpness.
"HYDRA probes offer the best of both worlds with their soft Silicon-Nitride cantilevers and sharp Silicon tips that feature the same well-defined shape as the sharpest Silicon probes on the market", said Dr. Sebastian Kossek, co-founder of Nanoscience Instruments and long-time AFM user.
HYDRA AFM probes are manufactured by Applied Nanostructures, adding a key component to the AppNano line of AFM tips, and reaffirming Nanoscience Instruments' role as the largest independent AFM probe supplier in the world. Nanoscience Instruments' brands include AppNano, Team Nanotec, CNTek, and their exclusive Vistaprobes line.
Free samples of HYDRA probes are available. For more information, visit http://store.nanoscience.com or contact Nanoscience Instruments.
About Nanoscience Instruments
Nanoscience Instruments, Inc. provides technical sales and support as a leading distributor of Atomic Force Microscope products. Information about AFMs, AFM accessories, and AFM probes can be found at http://www.nanoscience.com
###