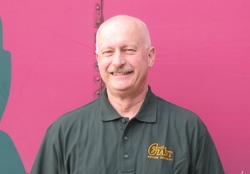 I look forward to working with the entire Gentle Giant team to continue building on the successes that the organization has experienced.
Somerville, MA (PRWEB) February 12, 2008
Gentle Giant Moving Company, (http://www.gentlegiant.com), the premier residential moving and storage company in Massachusetts with locations in New Hampshire, New York, North Carolina, Rhode Island, and Virginia, today announced that it has appointed Ronald D. Zahn to the position of Chief Financial Officer. In this role, Zahn will report to company President and CEO Larry O'Toole and will be responsible for all aspects of the company's worldwide financial operations and investments.
This executive hire is the latest in a series of moves that the company has made in the execution of its strategy, which includes geographic expansion and interstate business development. As CFO, Zahn will provide strategic guidance to enable the addition of locations within the company's existing markets as well as the development of new regions. Currently, the company has thirteen offices across New England as well as offices in Washington, DC, Charlotte, NC, and White Plains, NY.
"We are thrilled to welcome Ron to Gentle Giant's leadership team. As an experienced financial executive with an exceptional track record of success working with large companies, inside and outside of the transportation industry, he will be invaluable as Gentle Giant continues to grow," said Larry O'Toole, President and CEO of Gentle Giant. "Equally important, Ron has a great deal of integrity and compassion, which is a great fit for the Gentle Giant culture and our core value of putting people first."
A veteran with over 30 years of experience in related industries, Zahn is an expert in mergers and acquisitions, as well as managing organizational growth. He joins Gentle Giant from AMI Leasing, where he served as Senior Vice President of Finance. At AMI Leasing, he managed the successful growth of the organization from 250 to more than 800 employees and oversaw an expansion from 14 to 35 locations. Zahn also helped manage the acquisition and subsequent sale of the company during his tenure there. AMI Leasing managed over 35,000 vehicles in all 48 contiguous states.
Prior to that, Zahn was Controller at LILY Truck Leasing Corporation, where he played a key role in growing the company from about $8 million to $44 million in annual revenues by creating strong internal controls and using his expertise in various financial and administrative functions.
"Gentle Giant has been a pioneer in the moving industry since its inception almost thirty years ago. I believe that Gentle Giant is uniquely positioned to lead the industry based on the company's mission to change what people expect from a moving company by investing in its people and creating a positive experience through great service," said Zahn. "I look forward to working with the entire Gentle Giant team to continue building on the successes that the organization has experienced."
About Gentle Giant Moving Company, Inc.
Founded in 1980 and headquartered in Somerville, Massachusetts, Gentle Giant is a premier residential and commercial mover, offering local, interstate, and international service. Named one of the Boston Business Journal's Best Places to Work in Massachusetts in 2004, 2005, and 2006, winner of the 2006 International Torch Award for Marketplace Ethics by the Better Business Bureau, winner of the Better Business Bureau's Torch Award for Excellence in 2002, 2003 and 2005, eight-time winner of Boston Magazine's "Best of Boston," six-time winner of The Improper Bostonian's "Boston's Best Moving Company" award, six-time winner of the Angie's List "Super Service" award, and 2007 Top Small Workplaces award from the Wall Street Journal and Winning Workplaces, the company's services include craning, piano moving, complete packing and unpacking services, and other related services. Gentle Giant offers storage facilities and dispatches crews from its fifteen offices in Massachusetts, New Hampshire, New York, North Carolina, Rhode Island, and Virginia. For more information, please call (617) 661-3333 or visit the company online at http://www.gentlegiant.com.
###