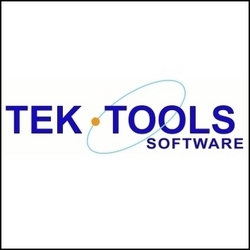 Profiler for VMware showed us that we could take many of our physical hosts and convert them to Virtual Machines, saving us space and cost in our datacenters and helping us centralize over eight terabytes of storage
Dallas, Texas (Vocus) February 12, 2008 –
Tek-Tools Software, a leading provider of IT resource management software solutions, today announced general availability of Profiler for VMware, a new module in The Profiler Suite, to optimize capacity utilization, performance, and availability of virtual IT infrastructures. Profiler for VMware is a completely agentless software solution that provides end-to-end monitoring of VMware ESX hosts, virtual machines, and storage, and delivers actionable insight through pre-packaged and customized reports. With this addition to the Profiler Suite, end users can monitor all four IT infrastructure components – servers, storage, backup and apps – from one console including virtual servers.
Early release customers gain efficiencies
Early-release customers have been using the new module in production environments, reclaiming terabytes of over-allocated virtual storage, eliminating unused storage hardware, capturing ESX server performance data, avoiding hundreds of thousands of dollars of unnecessary IT purchases and deferring maintenance expense.
"Profiler for VMware showed us that we could take many of our physical hosts and convert them to Virtual Machines, saving us space and cost in our datacenters and helping us centralize over eight terabytes of storage," said Ed Delgado, Storage Administrator, Risk Metrics. "It is a welcome addition to the Profiler Suite. Now I can look across the entire IT infrastructure – physical and virtual -- from a single console. At a glance from the Profiler console I can see how servers are performing, how much storage is available, the status of backup operations and application availability. Plus, I can drill down in any area for more in-depth reporting, the growth rate of allocated storage or historical performance of ESX servers, for example."
Virtualization delivers flexibility but complicates management
Server virtualization delivers consolidation and flexibility, but complicates performance and availability-management and masks infrastructure sprawl. A recent survey conducted by Enterprise Strategy Group, "The Impact of Server Virtualization on Storage" (December 2007), reveals that more than half of the organizations polled experienced a net growth of total storage volume since implementing server virtualization.
"The key to effectively managing storage in a virtualized environment is visibility. The ability to get a complete picture spanning from virtual machines to the physical storage is necessary to make intelligent business decisions," stated Bob Laliberte, Enterprise Strategy Group Analyst. "This insight also delivers the requisite performance and planning information to ensure that the proper IT infrastructure, virtual or physical, is in place to support mission-critical applications."
Profiler for VMware delivers visibility
Profiler for VMware provides visibility for:

Capacity planning – Eliminating wasted storage, reclaiming orphaned storage, and developing strategic growth plans based upon historical utilization, trending, and forecasting for both allocated and utilized storage.
Virtualization planning - Identifying candidates for virtualization.
Performance monitoring – Utilizing real-time and historical analysis and what-if scenario planning to optimize performance in the virtual environment.
Availability monitoring – Tracking inventory, status, and resource-utilization with threshold-based alerts across the virtual environment.
"Organizations do not have the staff or financial resources to manage IT infrastructure with stove-piped management tools," said Tek-Tools President and CEO Ken Barth. "And while virtualization enables data centers to be flexible and responsive, it also introduces a layer of management complexity. Bringing the entire IT infrastructure – both the physical and the virtual – into a single management console is imperative to drive cost efficiencies, optimize resources, and mitigate risk."
Profiler for VMware Availability and Pricing
Profiler for VMware is generally available directly and through Tek-Tools' channel partners. Pricing starts at $995 USD/ESX host regardless of the number of guests on the server.
About Tek-Tools
Tek-Tools Software, Inc. is a leading provider of IT resource management solutions serving customers from the Fortune 50 to the Fortune 5000 across every major vertical market. Its flagship Profiler Suite delivers end-to-end visibility and specific actionable insights on the entire IT infrastructure enabling proactive IT infrastructure management in support of critical business operations. The company is privately-held with offices in the U.S., the U.K., and India. For more information, visit http://www.tek-tools.com or call (972) 980-2890.
Press Contacts
Stephen Harding
sharding(at)tek-tools.com
(972) 980-2890 ext. 229
Kelly A. Murray
kellyamurray(at)comcast.net
978-597-3377
###