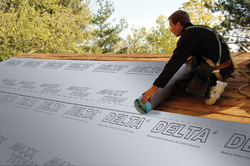 With underlayments replacing roofing felt at a rate of 10-12% per year in North America, the market is ready for these new, environment-friendly products
Orlando, FL (PRWEB) February 18, 2008
When it comes time to replace that tired old roof or, heaven forbid, Mother Nature makes the decision for us, people typically focus on what they will see at the end of the day. Asphalt shingles, clay or concrete tiles, or perhaps metal roofing is the big question.
Little attention, if any, is paid to what goes underneath the roof's top layer. Call it "underwear" for your roof, but underlayments are the heroes of your home. For years, roofers always used asphalt-saturated felt underlayment. Now, thanks to modern science, high-tech, highly breathable synthetics similar to those we use next to our skin to keep us dry and comfortable are available for your roof's under layer.
Starting with a launch at the February 2008 International Builders Show in Orlando, Cosella-Dorken, the leading maker of synthetic underlayments in the most demanding market in the world - Europe - is bringing its leading-edge products to North America. Just in time too, considering the weather seems to be attacking our homes with greater ferocity every year.
"With underlayments replacing roofing felt at a rate of 10-12% per year in North America, the market is ready for these new, environment-friendly products," says Tom Fallon, Vice President, Cosella-Dorken. "They're cheap insurance against mold and water damage, and reduce energy and replacement costs for long-term savings that far outweigh their original cost."
Advanced synthetics such as Cosella-Dorken's DELTA® line can transform the roof from a passive barrier to an environmental system, saving energy by reflecting summer heat away from your home and keeping it healthier by wicking excess moisture out of the house to prevent dangerous molds. For the pro roofer or do-it-yourselfer, synthetic underlayments from Cosella-Dorken are designed to be easy to install, safer to walk on than old-style felt, extremely tear-resistant and so tough they can be left uncovered for months at a time
These underlayments are designed for different roofs and climates: from low-slope to steep-sided roofs; asphalt shingled roofs to clay and concrete tiles or metal clad; for demanding semi-tropical regions, hurricane country and the tough winters of the U.S. Northeast.
Long the gold standard in Europe where homes are typically insulated to the roof line and attics are used for living space, Cosella-Dorken's underlayments can help give homeowners extra living space or, in the cases where their air conditioning is ducted through the attic, lower energy bills.
The DELTA underlayment universe
A pioneer in the synthetic underlayment field, Cosella-Dörken's DELTA line includes:
DELTA-MAXX TITAN - Its shiny silver titanium coating reflects up to 50% of radiant energy to keep homes cooler in summer. By lowering air-exchange rates, TITAN reduces heat-energy consumption up to 9%. A self-adhesive border speeds installation and acts like a zipper to lock weather out and keep home temperatures comfortable. Watertight and exceptionally vapor permeable, it is the only underlay equipped with a bottom layer to absorb excess moisture. This sponge-like layer safeguards wood roof rafters and sheathing by soaking up excess condensation or water, for release later through evaporation.
DELTA-FOXX and DELTA-VENT S - Multi-layered underlayments used on fully insulated pitched roofs. Impermeable to wind and rain, they are highly permeable to water vapor within the building and wick it to the outside. Compared to standard, impermeable membranes, these high-end underlayments can significantly extend the life of the roof.
DELTA-ROOF - The new solution developed for ventilated roofs with conventional asphalt shingles. This non-permeable roof underlayment provides four layers of top protection against any type of weather. Reinforced with a tear-proof grid structure, it is the ideal choice for extreme weather situations, or wherever roofs can't be finished on a same-day basis and will be exposed to wind.
Other Cosella-Dorken products include DELTA®-Dry, an advanced new "barrier" house wrap that drains and dries exterior walls of the home on both the inside and outside, DELTA®-FL for dry, comfortable basement rooms, DELTA®-MS for residential waterproofing and DELTA®-DRAIN geocomposites used for drainage in numerous commercial and heavy construction applications. For more information about a DELTA dealer near you call 1-888-4DELTA4, or visit http://www.cosella-dorken.com.
###