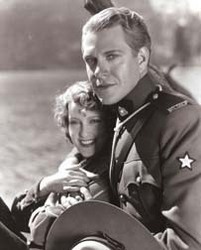 Jeanette MacDonald Autobiography: The Lost Manuscript
New York, NY (PRWEB) February 12, 2008
"When I'm calling you-oo-oo…" conjures a picture of stouthearted Mountie Nelson Eddy singing a much parodied song to his lady love Jeanette MacDonald. But back in the day, both the record and the movie were smash hits. And if you watch "Rose Marie" today, you too will forget to laugh at the hokey plot. Such was the power of a screen couple that made love with their voices; the haunting "Indian Love Call" became their signature song for a lifetime.
While filming "Rose Marie" on location at Lake Tahoe, the two stars in real life were briefly and secretly engaged. "I remember seeing Nelson for the first time and thinking he fulfilled most of my requirements in a man; he was tall, blond, good looking - but awkwardly self-conscious before the camera," wrote MacDonald in her autobiography. Nelson Eddy repeatedly proposed marriage to Jeanette MacDonald after their first film together, "Naughty Marietta" (1935). But MacDonald always refused because her career came first. She found Eddy possessive and old-fashioned about wanting a wife that would raise their children and leave the breadwinning to him.
Every Sunday at Tahoe, MacDonald and Eddy entertained the locals by walking to the waterfront and singing "Indian Love Call" to each other. When they weren't filming, the two took off into the hills on their horses. And this time, when Eddy popped the question, MacDonald said yes. She described the scene in a letter written in May 1945: "He kept asking me to be his wife... I thought he was the most wonderful thing I'd ever seen or known and it seemed too much to expect that he should really love me. And then one night as we stood watching the giant trees as they stretched their fingers skyward - his manner suddenly changed to one of great softness. And turning to take me in his arms, and burying his lips in my hair - as sweetly and tenderly as the night was coming to meet us, he said, 'I will never love another woman. When will you believe that?' There was something in his voice then that went deep and I knew that I as being given a part of him that no other woman would ever be given. I never forgot that night…" Eddy then slipped an emerald ring on her finger, they "rehearsed" their wedding vows and MacDonald sang "Indian Love Call" to him.
Soon after, MacDonald discovered she was pregnant. Eddy was delighted and wanted to elope to Reno. But an unplanned pregnancy violated the morals clause in their studio contracts. MacDonald phoned MGM studio boss Louis B. Mayer to alert him to the situation and was told in no uncertain terms that the marriage was off and the pregnancy had to be terminated. Mayer had only business interests at heart; he never believed that his two temperamental singers could make a go of marriage. Were they to divorce he would have no screen team left.
Nelson Eddy defied Mayer and still wanted to elope. He knew that they could go to any other studio if Mayer fired them. But MacDonald hesitated…and when she miscarried, Eddy didn't believe her and thought she had bowed to Mayer's demands. They had a bitter breakup.
In 1937 Jeanette MacDonald married an Eddy lookalike, actor Gene Raymond. Raymond had no qualms letting MacDonald be the star in the family. According to MacDonald's autobiography - sanitized though it was - MacDonald admitted her marriage was rocky and there were several lengthy separations. "He had a kind of secrecy inside which he'd developed as a boy," wrote MacDonald of Gene Raymond. "After our Honolulu honeymoon there was a lot of understanding to be done…" The "understanding" began when she discovered her husband having an affair with Buddy Rogers, the new husband of Mary Pickford.
Nelson Eddy married divorcee Ann Franklin in 1939; his marriage was also problematic. His romance with Jeanette MacDonald might have ended but Mayer continued to team them in several more films. Being thrown together onscreen reignited the offscreen affair, which more or less continued until MacDonald's death. In their years together, Jeanette MacDonald suffered at least three more documented miscarriages by Nelson Eddy. Despite trying until her mid 40s, she could not have a child.
Over the years when life was tough, Jeanette MacDonald and Nelson Eddy returned to Lake Tahoe for a few stolen moments. The owners of Chambers Lodge gave them a private cabin and never alerted the press that they were there. In December 1943, Eddy wrote a lengthy diary entry recounting how they had recently renewed their marriage vows, sitting on their favorite rock where MacDonald sang "Indian Love Call" to him. "Your dear life is bound to me forever," Eddy said as he slipped the same engagement ring onto her finger.
"Indian Love Call" was a gold record for Jeanette MacDonald and Nelson Eddy. In 1965, after MacDonald's death, Eddy admitted on a TV show that he was still asked to sing it every at every performance whether on radio, TV, concert or nightclub act. He lost count of how many thousands of times he had to sing it. Eddy died a scant two years after MacDonald; audiences never realized the personal painful memories tied up with the song that had immortalized them. In 2008, their recording of "Indian Love Call" was inducted into the Grammy Hall of Fame.
The above letters were quoted from the book "Sweethearts" by Sharon Rich (2001, Bell Harbour Press). "Sweethearts" can be ordered at http://www.maceddy.com/sweethearts-p-70.html. Read Chapter One online at http://www.maceddy.com/sweethearts_excerpts.html and listen to "Indian Love Call" at http://www.maceddy.com/news.html?pages_id=80. Jeanette MacDonald's autobiography was never published in her lifetime but the typewritten manuscript with her annotations has now been published under the title: "Jeanette MacDonald Autobiography: The Lost Manuscript" (2004, Bell Harbour Press. ) Her autobiography can be ordered at http://www.maceddy.com/jeanette-macdonald-autobiography-the-lost-manuscript-p-71.html.
Permission to reprint:
Journalist, newspaper publishers, bloggers and others: You may reprint this article as long as you reference this link.
Need a high def picture of Jeanette MacDonald and Nelson Eddy from "Rose Marie"? Use the link below.
http://www.maceddy.com/rose_marie.tif
###