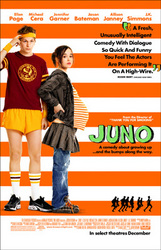 In Charlie Wilson's War, the acting battle among Oscar winners Hoffman, Tom Hanks and Julie Roberts is 'no contest' as Hoffman steals scene after scene with his impassioned portrayal of Gust Avrakotos
New York, NY (PRWEB) February 12, 2008
MOSAEC.com (MOSAEC) announced the winners of its inaugural Artistically Entertaining Awards. For 2007, MOSAEC has selected Talk to Me as the Best Drama and Juno as the Best Comedy with Juno leading MOSAEC's list of top ten films. No Country for Old Men has been recognized with the Shoulda, Coulda, Woulda Demeritorious Award. No Country received its award in recognition of its award season screening process.
The Artistically Entertaining Awards were created to spotlight some of the best in arts and entertainment. Awards are given in two categories - Artistic and Entertaining - with the former category being similar to traditional best of honors. MOSAEC's Entertaining awards vary from year to year and in 2007 awards were bestowed in categories such as the Best Onscreen Intimate Portrait (Irrfan Khan and Tabu, The Namesake, Fox Searchlight); the Heir Apparent to Charles Bronson Award (Jodie Foster, The Brave One, Warner Brothers; and the I Did not have Steroidal Relations with my Protégé Award (Tie - Barry Bonds, San Francisco Giants and Roger Clemens, formerly of the New York Yankees).
To announce its awards, MOSAEC opted for a swag-less, bling-less and celebrity-less awards presentation that is viewable online by clicking here
Don Cheadle was selected as Best Actor for Talk to Me and Ellen Page earned recognition as Best Actress for Juno. "Ms. Page's portrayal of a spunky pregnant teen has entertained and endeared the actress to audiences worldwide. Ms. Page's outstanding work overshadowed notable performances by others in this category," said MOSAEC's Marona Lowe.
Ms. Page's turn in Juno also earned the junior X-Men the Best Breakthrough Performance by an Actress Award. A Fox Searchlight release directed by Jason Reitman, Juno also captured an award for Diablo Cody's original screenplay.
MOSAEC honored Cate Blanchett of I'm Not There as Best Supporting Actress and Philip Seymour Hoffman of Charlie Wilson's War as Best Supporting Actor. Filmmaker Todd Haynes was named Best Director for I'm Not There. Released by The Weinstein Company, I'm Not There also received the Best Ensemble Award and the film's Marcus Carl Franklin was honored with the Best Breakthrough Performance by an Actor Award.
"As Jude in I'm Not There, Cate Blanchett is awe-inspiring. Ms. Blanchett's embodiment of her character is masterful," effused Ms. Lowe
"In Charlie Wilson's War, the acting battle among Oscar winners Hoffman, Tom Hanks and Julie Roberts is 'no contest' as Hoffman steals scene after scene with his impassioned portrayal of Gust Avrakotos," said Ms. Lowe.
Films in the top ten include The Namesake, No End in Sight and A Mighty Heart. "Spies, Vikings and gangsters joined a pregnant teen, a potty-mouthed deejay and a loving couple on MOSAEC's top ten list in films that are instant classics," noted Ms. Lowe.
MOSAEC's Top 10 Films for 2007 (in order of distinction)
1. Juno
2. Talk to Me
3. The Namesake
4. The Bourne Ultimatum
5. American Gangster
6. No End in Sight
7. Beowulf
8. The Savages
9. Before the Devil Knows You're Dead
10. A Mighty Heart
MOSAEC's Top 5 Documentaries (in order of distinction)
1. No End in Sight
2. Sicko
3. Darfur Now
4. War/Dance
5. Taxi to the Darkside
Additional information about the Demeritorious Award is available by clicking here. That page also has the complete list of the 2007 Artistically Entertaining Award winners.
ABOUT THE ARTISTICALLY ENTERTAINING AWARDS
The Artistically Entertaining Awards are announced in January of each year. Entertainment products released from January 1 through December 31 of the previous year are eligible for awards. There are two classifications of awards: "Artistic" and "Entertaining." Each of the awards in the "Artistic" category is presented annually to films that MOSAEC views as the "Best of" in traditional award categories. The "Entertaining" Awards categories are subject to change each year, depending on the list of entertainment products released during the year. In addition, MOSAEC will occasionally announce AE Redux awards in the various categories for entertainment products that were released in prior years that warrant special reconsideration.
ABOUT MOSAEC
Launched in 1999, MOSAEC is an online destination for those seeking fresh, irreverent and witty perspectives on things artful, entertaining, and cultural. In addition to reviews and feature articles, the site includes streaming media tidbits from personalities discussing their work. MOSAEC.com is based in New York City.
###