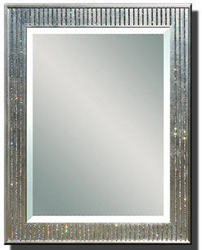 emit radiant light from within.
Seattle, WA (PRWEB) February 12, 2008
Upscale homes across the globe are getting the star treatment thanks to the recent launch of a new line of wall mirrors. WallDecorAndHomeAccents.com has just unveiled a new lineup of wall mirrors that are radiantly embedded with Swarovski crystals. These high-end mirrors lend opulence and shimmer to even the blandest of living spaces. Homeowners who are seeking to add a celebrity touch to their interiors can now browse Wall Décor and Home Accents' fine array of Swarovski crystal-embedded wall mirrors.
Earlier this week, when pop sensation Beyoncé walked the Grammy red carpet, she donned a strapless gown that shimmered with crystalline radiance. Just a few weeks prior, in its Star Shopping segment, "InStyle" magazine featured a decorative starfish studded with Swarovski crystals that caught Beyoncé's eye. Classy individuals, however, don't have to be a celebrity singing sensation like Beyoncé to appreciate the sparkling attraction crystals exude. Nor do they have to wear such bling on their sleeves.
WallDecorAndHomeAccents.com's new line of Swarovski crystal-embedded wall mirrors affords upscale individuals the opportunity to display their penchant for opulence and elegance within their homes. With anywhere from just over 100 to well over 3,000 Swarovski crystals encrusting them, these new decorative wall mirrors provide living spaces with everything from a subtle touch to all-out sparkle. Unique in their design and visual appeal, homeowners will be hard-pressed to find as high-class decorative pieces anywhere else in the marketplace.
When Daniel Swarovski patented a precision crystal-cutting machine in 1892, he "opened the door to the world of fantasy," according the Swarovski.com. "With fantasy, intuition and technical finesse, he and his descendants have managed to expose all the facets hidden within this fascinating material. Swarovski crystal, the timelessly modern material of the moment, seductive and glamorous, light-filled and luxurious, takes its place at the cutting edge of fashion."
But clothing and accessories aren't the only means by which Swaovski crystals are making their mark. In 2005, the Maison & Objet show in Paris showcased lots of glitz and glam including lights with strands of Swarovski crystals. And late last year, Trendir.com featured LED crystal panels by Swarovskit that "emit radiant light from within." Now, with its fine array of Swarovski crystal wall mirrors, Wall Decor and Home Accents is making the glamour of Swarovski crystals all the more accessible by bringing it into the home … where a man (or woman's) abode now really is his (or her) castle.
For more information on WallDecorAndHomeAccents.com's new line of Swarovski crystal wall mirrors, contact Krasen Tomov toll-free at (866) 342-0201. To see all the Swarovski crystal-embedded mirrors the company has to offer, visit their online showcase at http://www.walldecorandhomeaccents.com/swarovski-wall-mirrors.html.
###