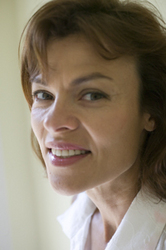 If I suspected an autism spectrum disorder in my child, this would be a book I'd reach for
Washington, DC (PRWEB) February 14, 2008
Autism super mom Jayne Lytel, 52, traces the arc of her journey -- the four worst years of her life -- to recover her now 8-year-old son, Leo, from autism in a new book, Act Early Against Autism, which debuts March 4 (Perigee). Her story, and the rescue of Leo is compelling and resonant.
"If I suspected an autism spectrum disorder in my child, this would be a book I'd reach for," says child development guru Dr. T. Berry Brazelton. Autism Speaks co-founder Bob Wright and best-selling author Temple Grandin, PhD, also praised the book.
Lytel is a former beauty queen, financial reporter and syndicated columnist whose life was upended when Leo was diagnosed with autism at the age of two --a week before 9/11. She didn't know a lot about the disorder, at the time, but understood one thing; that intensive, early intervention is the best weapon we have against autism and its related disorders. The brain has breathtaking plasticity to adapt and change during a child's first few years of life and is the reason families should not give up hope.
Lytel did not give up hope; she gave up everything else. Abandoning her career, she concentrated, full-time on addressing the autism in Leo in hopes that she could stop the progression of the condition and reverse its effects. During her four-year odyssey, she ran into mean moms, including a mother who kicked her out of a birthday party for her 5-year-old daughter because Leo cried after a magic show. Another mother snubbed her at a birthday party by not giving her son a piece of cake because he could ask for one.
For treatment, Lytel stuck with an intervention plan guided by research except for when she strayed and tried homeopathy. She turned her back on alternative treatments after a homeopathic practitioner asked her about her advanced age and whether she wanted to have her son.
Lytel also sought support that is available from the government, to discover that it can take weeks, months and more to obtain the services and funds that are so immediately necessary. She fought back, taking the District of Columbia Public School System to court twice -- and won.
Act Early Against Autism blends her personal story with practical advice, making it an empowering book for parents of newly diagnosed children on the autism spectrum. One practical tip: To toilet train a child on the autism spectrum, squirt blue food coloring into the toilet and show how the water turns green, which can motivate autistic children who like cause and effect.
Far from being defeated by her experience with her son, Lytel has become invigorated and inspired to address this problem that affects one child in every 150 in the United States, alone. She has founded and heads the Early Intervention Network: Enabling Families to Act Early Against Autism at The Early Intervention Network: Enabling Families to Act Early Against Autism The nonprofit helps change the lives of young children affected by this disorder by bridging a critical gap between diagnosis and the realization of public support.
For review copies of the book, please contact Lytel or publicist Mary Ann Zissimos at 212-366-2737 or visit the author's website at Act Early Against Autism The author's website also has before and after videos of Leo as well as audio clips of Leo talking about relationships.
ACT EARLY AGAINST AUTISM:
Give Your Child a Fighting Chance from the Start
by Jayne Lytel
Perigee Trade Paperback Original
ISBN 978-0-399-53394-5; $14.95
Publication Date: March 4, 2008
###