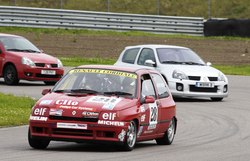 The buzz around this Show is just brilliant
(Vocus) February 12, 2008
Fancy flying round the 150mph-banked curves at the Rockingham International Motorsport Circuit? If you're a budding racer, or just fancy giving it a go, you can -- at the 2008 Adrian Flux French Car Show.
Last year broke all records and this year's Show is another feast of cars, action and French motor-mania - and once again the Flux Babes will be adding glamour to the proceedings. There are loads of adrenalin-charged shows and events planned, including a visit from the Driftworks team, who'll be demonstrating the wonderful world of drifting with stunts and races. Then there's the modified motors, the trade stands, the show & shine competitions - "The buzz around this Show is just brilliant " says Gerry Bucke of sponsors Adrian Flux Insurance Services. "The organisers get it bang on the button - there's loads of stuff to do and see. Anyone who loves cars should get here."
Wherever there's 'Flux' and 'French' in the same sentence, you can expect the Flux Babes to be on hand. They'll be handing out goodies and urging people to visit their brand new website, as well as showing how to get some extra special insurance deals.
But there's no doubt that one of the key attractions this year is the chance to book a drive on Rockingham's full International circuit - Europe's fastest racing circuit. With operating garages, pit stops and the 52,000 seater grandstand, it's the whole race experience.
"This is a really exciting and unique opportunity for car enthusiasts," says show organiser Mark Dow. "Most track days are held on circuits that are converted airfields - but this is the UK's only purpose-built circuit to be built since Brooklands in 1908. In fact, it's the only circuit of its kind in Europe."
Tickets for the Adrian Flux French Car Show cost £15 on the gate, or £12.50 in advance (children under 12 free). For more information email sales@frenchcarshow.co.uk, call 0845 838 0824, visit http://www.frenchcarshow.co.uk or catch the latest news on the Adrian Flux French Car Show blog at http://frenchcarshow.blogspot.com
For details about special deals and cheap insurance for French cars, contact the Adrian Flux quote line on 0800 505 3000 or see the Flux homepage on http://www.adrianflux.co.uk
The Flux Babes website will also carry information on the Adrian Flux French Car Show -- visit http://www.fluxbabes.co.uk
###