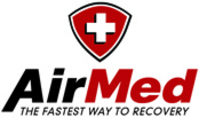 With the addition of the Hong Kong base, AirMed will be more equipped than most air ambulance companies to provide specialty care and a seamless transport package to our customers
Birmingham, AL (PRWEB) February 17, 2008
Award-winning air ambulance company AirMed International (airmed.com) has officially announced its plans to open its fourth base of operations in Hong Kong, making AirMed the first U.S. air ambulance company with a permanent base in Asia. AirMed has purchased an additional Hawker 800 long-range aircraft to be located at the Hong Kong base. AirMed's Hong Kong base will be operational in March, 2008.
"With the addition of the Hong Kong base, AirMed will be more equipped than most air ambulance companies to provide specialty care and a seamless transport package to our customers," said Jeffrey Tolbert, President and CEO of AirMed International. "This international base extends our ongoing commitment to excellence in all aspects of transport and patient care."
Even though AirMed's newest Hawker 800 aircraft will be based in Hong Kong, it is U.S. registered and will be operated by U.S. licensed flight crews and staffed with Western-trained medical crews, meeting the same exacting standards as AirMed's ten other aircraft currently operating in the United States.
With AirMed's growing reputation as one of the best in the industry, the air ambulance company routinely flies transports for Fortune 500 companies, world-renowned hospitals, international assistance companies and foreign governments. AirMed is CAMTS accredited and a preferred carrier for the U.S. Department of Defense. The company plans more expansion announcements in the coming months along with additions to its aircraft fleet.
AirMed International is the country's leading air ambulance service and winner of the 2007 International Travel Insurance Journal "Air Ambulance of the Year" award. AirMed flies more than 2,100 transport missions each year and boasts the most experienced air medical crews in the world. Chosen as fixed-wing transport for the world-renowned Mayo Clinic, AirMed operates a fleet of fully customized fixed-wing aircraft from its headquarters in Birmingham, Alabama, with additional bases in Honolulu, Hawaii, Rochester, Minnesota, and the upcoming Hong Kong base.
For more information about AirMed, see our website at airmed.com or call Sarah Hanley at 800-356-2161 or 205-443-4840.
###