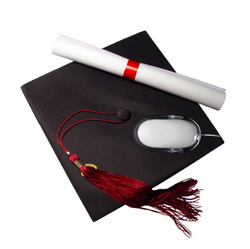 Grand Junction, CO (PRWEB) February 13, 2008
The academic tide is turning. Many adult learners of all stripes are looking past campus-based colleges and choosing online schools as the best means to higher education. In fact, 20% of U.S. students are now enrolled in an online school. This preference for distance learning has created a huge demand for good online degree programs, and SchoolsGalore.com has stepped to the plate to deliver more choices of accredited online colleges and universities to meet the demand.
A lot of people are wary about online education, and that's understandable. Everyone has heard stories about online diploma mills churning out questionable credentials for a few hundred dollars. But, every school listed on SchoolsGalore.com has been carefully selected for academic excellence and accreditation, providing a safe environment for students to research hundreds of online colleges and universities with confidence.
Prospective students (and their parents) can visit SchoolsGalore.com anytime of day or night, and quickly browse for colleges and universities all across the US and Canada. A college search can be targeted within a certain zip code, or the visitor may expand the search to include online schools across North America. If the visitor is searching for more information about a certain type of educational program or school, they will find a plethora of articles and in-depth descriptions and explanations to assist the student in making the right decision. The best part is visitors can contact schools directly through SchoolsGalore.com to request more information about specific educational programs. All information requests are strictly between the student and the school, and private information is kept safe and secure.
With more than three million people taking online courses every year, SchoolsGalore.com provides the stepping stones to improved knowledge and competency, allowing graduates to excel in the global marketplace. Undergraduates and graduate students alike can enjoy easy site navigation with a wide variety of choices arranged in logical order. There are thousands of subjects available to study online, and degree programs offered through SchoolsGalore.com range from undergraduate degrees, such as online associate or bachelor degrees, all the way to graduate degrees, including the online master and doctorate degrees.
SchoolsGalore.com also has more than 1,700 excellent campus-based vocational schools, colleges and universities to recommend. Studies can range from Aeronautics to Yoga and beyond. Some of the most popular courses today are in the natural healing arts, with the three top choices being acupuncture studies, chiropractic studies, and learning about massage therapy. Other students might gravitate toward the online business schools, liberal arts programs, or computer education. No matter the program desired, SchoolsGalore.com allows visitors to select from hundreds of good degree programs without ever visiting a campus. What could be simpler?
The point is that higher education is widely acknowledged as the single most important factor to professional success. Every year hundreds of thousands of students look to SchoolsGalore.com to find top online schools or campus-based colleges and universities, and get the education needed to achieve any personal goal or professional aspiration imaginable.
###