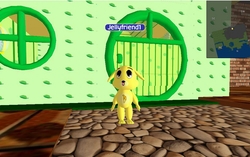 Our focus has always been about innovation, so it made sense that the Jellybean Friends characters evolve and move into a 3D environment, something that none of our competitors have produced before
Los Angeles, CA (PRWEB) February 17, 2008 -
Tomorrow Incorporated, newcomer to the toy industry, is making a big splash in the virtual world by evolving its kid and parent-friendly Jellybean Friends™ into three-dimensional characters. Formerly known as Jellybeanies™, the first series of eight scented and collectible plush characters launched last year with Series 2 debuting in Spring 2008, doubling its collection with brand new characters.
Retailers will have an opportunity to preview the Jellybean Friends plush collection with a sneak-peek at the 3D environment before the world goes live in Fall 2008. Tomorrow Incorporated's product lineup and demonstrations will be located on the third floor at booth #3143.
"Our focus has always been about innovation, so it made sense that the Jellybean Friends characters evolve and move into a 3D environment, something that none of our competitors have produced before," said Jim Huntley, Chief Marketing Officer of Tomorrow Incorporated. "As our characters and their stories develop, 3D will allow players to interact with the environment and each other. We always want to be on the edge of new technology so if there was 4-D, you can be sure we'd be working on it now!"
The strive for innovation extends beyond the online world and into the plush toy itself: Jellybean Friends differentiates from the competition by incorporating scent and colors representative of the land and terrain each character lives in. Included with each Jellybean Friend is a "biocard" that summarizes the character's history, mythology, and personality.
Continuing to set itself apart from competing virtual worlds -- where basic needs must be met and players buy and build their personal environment -- Jellybean Friends also features a unique "Friendship Meter" that tracks the amount of interaction players have with each other via chat.
In addition to Jellybean Friends, Tomorrow Incorporated's 2008 lineup includes an interactive learning toy for parents and toddlers while providing high-tech school accessories and gear for kids and adults.
Jellybean Friends™
Formerly known as Jellybeanies™, the candy-colored and scented plush toys are multiplying with new characters in 2008! Similar to Series 1 characters, Series 2 features the patent-pending scent release feature that lasts up to 20 months. Each character has a personality, unique story and a secret Jellycode™ to access customized online content on http://www.jellybeanfriends.com. Kids can unlock their toy and make new friends while exploring an immersive and safe online multiplayer world! Age graded 3 years and up; MSRP: $13.99.
Britepack™
It's the brightest craze to hit the schoolyard! Britepack takes a fun trend and combines it with a staple: the first motion-activated light-up backpack! Triggered by movement or impact, the Britepack sets off a pattern of LED lights and shuts off when it's not in use. An added fun feature to an ordinary school item, the Britepack serves as a safety feature in urban areas so that kids can be more readily seen in traffic or other low-light situations. Britepacks are handwashable and runs using replaceable AA batteries. Designs are available in various styles and sizes and include 16" wheeled and non-wheeled (all Britepacks are equipped with shoulder-straps). Britepack add-on tech accessories will launch later in 2008. Age graded 5 and up; MSRP: $19.99 (toddler/non-wheeled) $24.99 (toddler/wheeled); $39.99 (adult/non-wheeled) $45 (adult/wheeled)
Talking Mama Bear™
It's a child's connection to mom! Perfect for overnight trips to a friends' house or just the first year at daycare, Talking Mama Bear is a plush toy that allows a caregiver to record different messages for a child, keeping the sound of a parent's voice within reach when they can't be there in person to comfort them. A different message is played when a child triggers one of the five touch points on the bear's body such as the hands, feet and torso. Talking Mama Bear also includes several teach modes to promote number, color and anatomy recognition. Age graded 2 years and up; MSRP: $29.99
About Tomorrow Incorporated
Based in Los Angeles, Tomorrow Incorporated's primary mission is "Innovation in Recreation™." The corporation currently brands its products under two imprints: Tomorrow Toys™ and Tomorrow Gear™. Tomorrow Toys is The Future of Fun™ for kids and adults who are looking for exciting and unique products that promote learning, interaction, and imagination stimulation. Tomorrow Gear invites consumers to Wear the Future™ with unique augmentations to wearable apparel. Utilizing innovative design, extensive research and strategic partnerships, Tomorrow Incorporated is committed to developing parent and kid-friendly products that always bring something new and unique to the table.
# # #