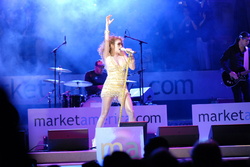 Greensboro, N.C. (PRWEB) February 13, 2008
Market America held its annual Leadership Conference February 7-9, 2008 at Miami's American Airlines Arena. The conference was highlighted according to James Ridinger, president and CEO of Market America, by the appearance of Kimora Lee Simmons and the launch of her "Fabulosity" skin care line through marketamerica.com, the announcement of an initiative with Google, and a rare Miami performance by Grammy nominated artist Paulina Rubio.
Simmons, who appeared on stage with Loren Ridinger, senior vice president of Market America, spoke about her new product line that is available exclusively on marketamerica.com. Simmons was also accompanied by cameras from her reality show "Kimora: Life in the Fab Lane" for airing on an upcoming episode. Among the products Simmons and Ridinger unveiled were:

Silky Cleanser - Glistening body wash that lathers to leave moist, clean, and sweetly scented skin once rinsed and dried.
Body Lotion - Designed to make skin feel soft and supple and to stimulate the senses from its fresh exotic garden scent. The lotion contains caffeine and coenzyme A, to tighten and firm the skin.
Body Butter - A rich butter-like cream which absorbs in to the skin to soothe and provide moisture to dry parched skin. Ingredients include Shea butter, Illipe butter and Cocoa butter.
Sugar Body Scrub - Natural sugar crystals gently exfoliate dead skin cells from the body leaving behind smoother, softer, glowing skin. The sugar melts and rinses away when used with warm water. Ingredients also include Shea butter, Illipe butter and Cocoa butter.
Market America also announced at Leadership School an initiative that marketamerica.com would now be powered by Google's leading search engine capabilities. The partnership will allow real time comparison shopping among the millions of products offered on Market America's website. Customers will be able to search for exclusive Market America products and those from over 2,000 partner stores and have all results shown in an easy to compare format, including the price of each product on one page. Shoppers will also have the ability to use advanced search features, including sorting products by price, brand and store. Google representatives were on hand to take part in the announcement. More information about the Google partnership is available at
http://www.marketamerica.com/corporate/index.cfm?action=news.wpNewsDetail&contentID=2699
Market America closed Leadership School with Rubio performing some of her biggest hits in front of over 23,000 Market America Distributors. The concert kicked off Market America's launch into the Latin market. Marketamerica.com already features a Spanish web portal and the company plans to expand into Mexico and other Spanish speaking countries within the year. James Ridinger said the concert not only signified Market America's launch into the Latin market, but also punctuates Rubio's involvement with Market America's entertainment portal where customers can purchase CD's and products associated with their favorite artists, buy concert tickets for upcoming shows, download music, and will be a platform for interaction between fans and their favorite artists.
ABOUT MARKET AMERICA, INC.
Market America is a product brokerage and Internet marketing company that specializes in One-One-Marketing. With more than three million customers and 160,000 Distributors worldwide, the company has generated over $2.4 billion in accumulated retail sales. Headquartered in Greensboro, NC - the company was founded by James Ridinger in 1992 and employs over 500 people globally with international operations in the United States, Canada, Taiwan, Hong Kong and Australia. Through its revolutionary One-to-One Marketing concept, Market America combines the Internet with the power of people - creating the ultimate online shopping destination. More information is available at http://www.marketamerica.com.
###