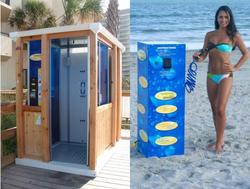 the combination of Ocean Potion's fantastic products and the Sunscreen Mist Booth and Station bring an unprecedented level of safety and convenience to those who enjoy the outdoors
Cocoa, FL (PRWEB) February 13, 2008
Ocean Potion Sun Care and Sunscreen Mist signed an agreement which will forever change the way people protect themselves from sunburn. Sunscreen Mist is the market leader in sunscreen application systems with accounts at prestigious water parks, cruise lines, Four Star hotels and beach resorts. The automated Sunscreen Mist Booth and wand based Sunscreen Mist Station revolutionized sunscreen application in 2007 by allowing users to quickly apply a measured dose of sunscreen that meets or exceeds the recommendations of the FDA and the American Academy of Dermatology. No more missed spots or under-application means less sunburn and reduced risk for the damage that causes melanoma and other forms of skin cancer. Jordan Lichman, President of Sunscreen Mist believes "the combination of Ocean Potion's fantastic products and the Sunscreen Mist Booth and Station bring an unprecedented level of safety and convenience to those who enjoy the outdoors,"
The Sunscreen Mist partnership continues Ocean Potion's long history of innovation. It was the first to offer Parsol 1789 across its entire line and recently added the UV stabilizer Solaplex to provide extended protection to their broad range of sunscreens. Now Ocean Potion is adding an industry leading level of safety and convenience at the outdoor locations where and when users most need and desire sun care.
The Sunscreen Mist Station and Sunscreen Mist Booth offer users access to Ocean Potion's line of Sunscreen and Instant Bronzing products where and when they need them most. The fully automated vending units allow individuals and families to choose their desired level of protection and reapply throughout the day without having to carry bulky cans and tubes of traditional sunscreens and tanning products.
Sunscreen Mist application systems with Ocean Potion Sun Care are ideal profit centers for hotels, resorts, timeshares, summer camps, beach concessions, community pools, luxury apartments and condos, amusement and water parks, and vending operations. The Ocean Potion agreement has made very generous incentive pricing and leasing available on spray systems for orders placed before March 31. Only a limited number of Sunscreen Mist Booths and Stations remain for summer 2008. Parties interested in offering or distributing Sunscreen Mist application systems should act quickly. More information and a video on the benefits and features of Sunscreen Mist Application Systems can be found at http://www.sunscreenmist.com.
###