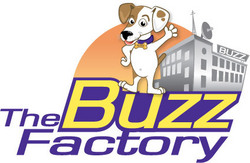 King, NC (PRWEB) February 13, 2008
Who is this cartoon canine, "Buzz," and how did he get so smart? Nearly 8,000 members of Pet Sitters International, the world's largest association for professional pet sitters, are discovering the answer to this question within the members' section of the PSI Web site at http://www.petsit.com.
Well-known for its pioneering educational efforts in what has become a fast-growing niche industry, PSI saw the need to provide a set of highly customized marketing tools to its members and acted to bring the creation to life.
Lovable mutt, Buzz, and "The Buzz Factory, Marketing Tools for the Serious Pet Sitter" are the result. Designed as a "how to" marketing guide, the initial installment was recently unveiled to PSI members as a downloadable resource for promoting and growing a pet-sitting business.
The Buzz Factory--Part One covers the ins and outs of creating and hosting a community event to promote proper pet ownership and quality pet care, while establishing business relationships for the pet sitter within her community. Buzz guides the pet sitter through the design, planning and execution of an event with the intent of spreading the word about the individual pet-sitter's services.
"Over the years, our staff has fielded thousands of questions from our members," notes Patti Moran, founder and president of Pet Sitters International. "In addition to answering these questions, we've kept up with the type of questions being asked to try to best anticipate the needs of our membership. Marketing and promotion represents key subject matter that our members ask about consistently, so we've compiled our thoughts as well as best practices from the members themselves into the Buzz Factory."
Parts Two and Three of the Buzz Factory will cover establishing relationships with local news media and utilizing the Web and social media to promote a pet-sitting business. Active PSI members can download The Buzz Factory from the password-protected members section of the PSI Web site at http://www.petsit.com free of charge.
"The Buzz Factory is just one part of an ongoing initiative and commitment to invest in our members' success," adds Moran. "As the leading industry association, we feel a great obligation to help the public understand the value of engaging a qualified pet sitter. Likewise, we are committed to our members to assist them with mastering professional pet care as well as professional business etiquette and practices. When joined together, these qualities build a foundation for successful pet sitting. The Buzz Factory is a simple, yet important, educational tool that will benefit our members as they forge strong relationships within their respective communities."
Buzz the dog is at the center of all of this information exchange, as he should be. According to Moran, caring for pets like Buzz is the reason PSI's members chose their profession -- and the reason PSI exists.
About Pet Sitters International:
Established in 1994, Pet Sitters International (PSI) is the world's largest educational association for professional pet sitters, representing nearly 8,000 independent professional pet-sitting businesses in the United States, Canada and abroad. PSI prides itself on its ability to provide its members with access to affordable bonding and liability insurance and educational resources such as PSI's Accreditation Program, The WORLD of Professional Pet Sitting magazine, The Pet Owner's WORLD magazine and PSI's annual Quest convention.
###