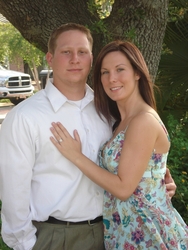 Proposals are becoming increasingly elaborate….
Healdsburg, CA (PRWEB) February 13, 2008
Valentines Day is a day of romance, when approximately ten percent of the 2.3 million estimated couples who become engaged pop the question (source: Diamond Information Center). According to one source, "Proposals are becoming increasingly elaborate…." When Brandy Hebert of New Orleans, LA learned she had won $5,000 toward the cost of her dream wedding to fiancé Jerry, she shared her unique wedding proposal story, a story suitable for Valentines Day romance:
One of the most unique qualities of my fiancé Jerry is his sense of humor. While driving with my sister to have dinner, I was suddenly pulled over by three unmarked SUVs. These guys did not look like our local police. I thought they were the Feds! They looked underneath my car and ignored my questions of "Why am I being pulled over?" I was asked to step out of the car, and then they questioned me about where I was going, and if I had ever been arrested before! Ten minutes later when I was at the point of tears, the "officer" turned me around, and I saw Jerry down on one knee with my beautiful ring. Just like an episode of candid camera, my parents then appeared from behind a bush with a video camera. They caught the whole thing on tape … even the part when I said "YES!"
After being together for eight years, including a 5-month separation during Hurricane Katrina's aftermath, Brandy and Jerry are making final preparations for their wedding, which will take place in April in New Orleans' Audubon Tea Room. And now, thanks to Mirassou Winery, this lucky couple will also have $5,000 to put toward the cost of their wedding.
Couples Can Say "I Do with Mirassou" in 2008. Mirassou is pleased to announce the new details of its 2008 "I Do with Mirassou" Contest, which will award $10,000 to one lucky couple, plus the opportunity of a lifetime to meet with a Brides.com senior editor to begin planning their dream wedding.
This year's contest kicks-off on Valentines Day, February 14, 2008, and couples may enter through May 30, 2008. Five lucky finalists will be chosen in early June and featured on http://www.mirassou.com for an online vote through June 30, 2008. The winning couple will be announced in early July and will meet with Brides.com editor-in-chief this summer to sample wine and cake pairings, learn about the hottest wedding trends, preview floral arrangements and more. Go to http://www.mirassou.com to enter to win.
About Mirassou Winery: The Mirassou family has been growing grapes and crafting superior wines since 1854, earning them the distinction of being America's oldest winemaking family. Today, the Mirassou wine style is light, refreshing and fruit-forward. Mirassou's premium wines - Chardonnay, Sauvignon Blanc, Riesling, Pinot Noir, Merlot and Cabernet Sauvignon - retail for approximately $10 per bottle and are widely available in all 50 states. They can be located through Mirassou.com's "Where to Buy" section or by calling (888) MIRASSOU.
NO PURCHASE NECESSARY. Contest starts 2/14/08 and ends on 5/30/08. Contest open to legal residents of one of the 50 United States or D.C. and at least 21 years of age at time of entry. Void in CA, TN, UT, PR, outside the 50 United States, and where otherwise prohibited by law. See Official Rules at mirassou.com. California Table Wine, ©2008 Mirassou Vineyards, Healdsburg, CA and Modesto, CA. All rights reserved.
###