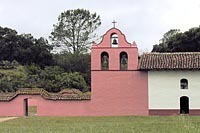 Historic sites are part of our cultural identity - our collective 'family treasures' that must be saved and protected. States can't simply set them aside for a while and expect to reopen them when more money is available. If historic properties are not continuously maintained, they could easily suffer irreparable damage
Jackson, CA (PRWEB) February 13, 2008
Nearly one-third of California's state historic sites and one-fifth of its scenic parks may soon be closed - casualties of government budget cuts. Mid-January, Governor Schwarzenegger recommended shutting down a total of 48 state parks to help solve a $14.5 billion deficit. But the question remains: Might closing these tourist attractions do more harm than good to both the state and the nation?
California is the number one travel destination in the United States, attracting 11.5% of American travelers and over 20% of foreign visitors. According to industry sources, travel to and through the state in 2006 alone contributed an estimated $93.8 billion to the economy, directly supported 929,000 jobs and generated $5.6 billion in tax revenues. (See California Travel and Tourism Commission press room's California Stats, on the website visitcalifornia.com.)
State parks have been important contributors. Those threatened with closure attracted 6.5 million visitors last year. While cutting them from the state budget would save the government $13.3 million, that is less than one-thousandth of what is needed. In the process, local jobs, tax revenues and tourist dollars would be lost.
"Most disturbing of all is the proposed closure of 16 state historic parks. This is a dangerous precedent that could impact all Americans," notes Suzanne Sheumaker, co-author of the award-winning history-travel guide 'America's Living History-The Early Years.' "If our nation's most populous state does not care enough to save its heritage, will other states follow?"
"Historic sites are part of our cultural identity - our collective 'family treasures' that must be saved and protected. States can't simply set them aside for a while and expect to reopen them when more money is available. If historic properties are not continuously maintained, they could easily suffer irreparable damage," Suzanne adds.
Among the threatened parks are Sacramento's famous Sutter's Fort, which played an important role for pioneers settling the Old West, and Lompoc's La Purisima Mission, a beautifully restored Spanish mission that recently celebrated its 220th anniversary. "Can we really risk closing such places? Every time we lose the physical remnants of America's past, we lose a piece of our national soul," Suzanne points out.
She and her co-author husband, Craig, are hoping to stimulate a public outcry. "What we're talking about is America's living history and the places that make real what can only be imagined through books, museum displays and movies," Craig comments. "Even overseas visitors recognize the need to see, explore and learn about the heritage that helped make America what it is today. Tourist data indicates that nearly 41% of them visit historical sites during their travels in California." (See 'California Travel Impacts' slide #11 on the website culturecalifornia.com/culturecalifornia/files/CA_Impacts2006.)
"Look at this another way: When individuals are forced to decide what to save in an emergency, they typically take the things that cannot be replaced, such as family heirlooms, letters and photos. State historic sites are part of the inheritance we should preserve and pass on to our children," Craig adds.
For more information about the state's at-risk historic sites, see 'In the Spotlight: La Purisima Mission and Sutter's Fort' on the website http://www.AmericasLivingHistory.com. This free article provides insight into the history and visitor attractions of two very special contributors to California's cultural heritage.
Contact:
Suzanne Sheumaker
Red Corral Publishing
209-295-5582
# # #