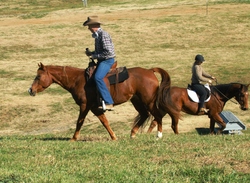 AANH offers shows catered to natural horsemen, who are working toward a horse-human relationship
Iowa (PRWEB) February 13, 2008
The American Association of Natural Horsemanship flings open the doors to new programs for natural horsemen and other horse lovers. Natural horsemanship is a philosophy of utilizing the nature and communication of the horse to understand thought patterns, and establish bonds of trust and cooperation between horse and trainer or rider. As part of the grand opening, a new online community will provide support and education for horse enthusiasts. The re-designed membership program provides a variety of benefits for professional and novice natural horsemen and their supporters. Educational materials, a horse registry, an online community and more await members of the AANH.
Organized shows and clinics with a focus on natural horsemanship are new activities available to members. "AANH offers shows catered to natural horsemen, who are working toward a horse-human relationship," Jeanine Lowry, President said. "We are looking for those who want a place where they can meet others embarking on the same journey."
The AANH will offer an online community that provides education, support and interaction with others who are working on similar natural horsemanship projects and programs. In addition to the national organization, AANH will strive to bring together regional groups of natural horseman as well. "Now our members can also find someone near them to connect with and get together for play days, or someone to lean on for extra help," says Lowry.
Although the AANH offers many programs for natural horsemen the association is not for horse trainers only. Equestrians of all kind are welcome. "A horse lover or equine enthusiast can join and get involved with our community to learn about horses, locate horse rescue organizations and therapeutic riding centers. For new riders, we have a list of riding instructors seeking students. With our horse registry, we can also help you find that special horse that you have been searching for."
AANH allows members to be involved on many levels, Lowry said. "We are looking for people involved with natural horsemanship as well as anyone interested in learning more about it," she said. "Anyone wanting to learn about natural horsemanship can join and get involved learning both locally and online." According to Lowry AANH will sponsor local clinics as well as post online videos and publishing regular articles about natural horsemanship.
Mission: The American Association of Natural Horsemen (AANH) promotes use of natural horsemanship and humane treatment of all equine. AANH is open to all equine breeds, regardless of function. Event, show and working equine are all eligible, as are all equine enthusiasts dedicated to becoming better horsemen and better enjoying time spent with their horses. The AANH promotes use of natural horsemanship, regardless of breed, through shows, clinics, and other educational materials. AANH promotes a positive atmosphere of honesty, personal growth and politeness towards fellow horsemen where, above all, horses are always respected.
Purpose:
The American Association of Natural Horsemen encourages, promotes, and advertises natural horsemanship. The Association shall carry out the foregoing purpose by conducting and sponsoring horse activities, events, and contests nation-wide; establishing standards, rules and regulations for efficient promotion of natural horsemanship competition; establishing qualified affiliate groups and organizations; establishing standards for judging performance of horses; maintaining active records of individual horses and riders; establishing appropriate recognition for related achievements; and cooperating with other equine associations sharing a common purpose.
For more information about the AANH and natural horsemanship visit the web site at http://www.AANH.net.
###