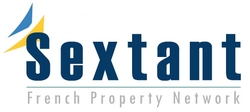 (PRWEB) February 14, 2008
The aim of SextantProperties.com is to help people in their search for a French property, would it be a holiday house or a permanent residence.
At Sextant Properties, the team of property consultants is made of French natives, knowing their country very well and passionate about it. All of them are fluent in English and can assist customers to find their dream property in the best parts of France.
According to Brice Bonato (Partnership Manager) "Customers are always thankful for the help and free service we provide to them in their search of a French property. When they arrive in one of our French estate agent office, they are always welcomed by an English speaking person dedicated to them, they have a good chat together about what kind of property they are looking for, shortlist a few ones matching their needs on our agent's books and then they go together and view the properties selected. It proves to be very efficient as 85% of our clients find the property of their dream in France during their first trip".
As of February 2008, Sextant Properties is a recognised user friendly website updated every day with more than 3000+ carefully selected character properties in the best parts of France. Between 150 and 200 new properties are added every week. It is today one of the busiest and most popular French Property website in the UK.
There is no charge for their service throughout the purchasing procedure. Sextant Properties work on a shared commission basis with its network of French estate agents and the properties appearing on the website are offered at exactly the same price as a customer would pay if he went directly to the estate agent.
On Sextant website you will find a cutting edge advanced search allowing a potential buyer to do very specific searches and navigate faster among all the properties available on the website. For those looking for investment properties, or for property they may used for holidays and rent out when they do not use it, there is a French Leaseback section on the website with guaranteed ROI between 3% and 5.5%, alongside a 19.6% VAT cash back on the property price. For those not familiar with France, or at the very start of their search of a French Property, there are also several sections with lot of information about the different areas of France: Aquitaine, Brittany, Normandy, Limousin, Pays de la Loire, Poitou-Charentes, Languedoc-Roussillon, Midi-Pyrenees and the French Alps.
To ease the property purchase, Sextant Properties can help its clients to transfer their money, find a French mortgage or put them in touch with an English solicitor should they need legal advice.
To get most of SextantProperties.com the property hunter can register for free, save his favourite properties and create his own portfolio. It will allow him to monitor them and to be sure that they are still on the market before coming over in France.
Contact:
Matthieu Cany
Sextant Properties Ltd
0207 428 7750
http://www.sextantproperties.com
###