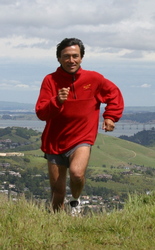 Asheville, NC (PRWEB) February 14, 2008
ChiRunning, a revolutionary running technique that combines T'ai Chi with the power and energy of running, would like to encourage people to make a dash toward a heart healthy and injury-free lifestyle during February's National Heart Month.
Health benefits are a key motivation for runners. Running has been proven to strengthen the heart and help prevent heart attacks by keeping the cardio system efficient and strong. Moreover, the heart of an inactive person beats 36,000 more times each day than that of a runner, as running keeps the arteries open and the blood flowing smoothly.
Time and time again, preventable injuries are the barrier to achieving the heart healthy lifestyle that go hand and hand with a long enriching life. In fact of the 24 million people in the U.S. who run, 65 percent will have to stop running at least once during the year due to injury. Millions more quit or avoid running because of injury or the fear of causing long-term damage. Yet, there have been few new ideas or fresh approaches to running and injury prevention.
There are countless books, courses and classes on how to improve golf swings, tennis games and even cycling technique, but none teaching how to run properly. The ChiRunning program fills this void by teaching people bio-mechanically correct running form that is in line with the laws of physics and with the ancient principles of movement found in T'ai Chi. The technique is based on the same principles and orientation as Yoga, Pilates and T'ai Chi: working with core muscles; integrating mind and body; and focused on overall and long term performance and well-being.
Created by accomplished Ultra Marathon Runner (races longer than a marathon), Danny Dreyer, the ChiRunning program offers a real solution to the high rate of injury that plagues the sport of running. ChiRunning techniques increases mental clarity and focus, enhances the joy of running and turns running into a safe and effective lifelong program for health, fitness and well-being.
Whether you're an injured runner, a beginner runner, a marathon runner, a triathlete or someone who runs to stay fit, ChiRunning has helped thousands improve their technique, reduce injury and achieve personal goals. Conditioning the mind can be just as important as conditioning the body. ChiRunning can be a meditative practice that focuses the mind, lifts your spirits and opens the flow of chi in your life.
The ChiRunning book and DVD offer information about: race training, trail running, interval training and endurance running as well as diet and nutrition for peak performance.
The ChiRunning program virtually changes the landscape of the sport of running and makes running accessible and appealing to people who have stopped running due to injury, who are intimidated by the difficulty and potential danger of running, who want to have a competitive edge, and for those who seek a spiritual component in their fitness program. More information about ChiRunning can be found at: http://www.chirunning.com
About Danny Dreyer
Danny Dreyer is the creator of ChiRunning® and ChiWalking®, revolutionary forms of moving that blend the subtle inner focuses of T'ai Chi with running and walking. His work is based on his study of T'ai Chi with Master Zhu Xilin and internationally renowned Master George Xu, and his 35 years of experience, running, racing ultra marathons and coaching people in "intelligent movement". He has taught thousands of people the ChiRunning and ChiWalking techniques with profound results.
Danny has lived a lifestyle steeped in holistic living, meditation, and personal wellness for over 30 years. Healthy eating, physical exercise and rejuvenating activities are mainstays in his life and the foundation of what he teaches. He has successfully completed 40 ultra-marathons since 1995.
Danny's first book, ChiRunning: A Revolutionary Approach to Effortless, Injury-free Running was released April, 2004, by Simon & Schuster. ChiWalking: Five Mindful Steps to Lifelong Health and Energy was released in March 2006.
MEDIA CONTACT: Allison Neves, WordsInspire PR - 415-948-1200, allison@wordsinspirepr.com
NOTE TO EDITORS AND PRODUCERS: High-resolution images and interviews with spokespeople available upon request.
# # #