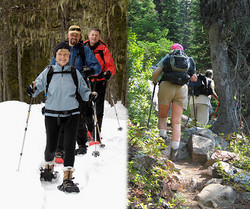 Our interest lies in the lifetime success for our guests be it weight loss, nutrition, exercise or stress management goals
Ainsworth Hot Springs, BC (PRWEB) February 15, 2008
FitPath at Mountain Trek, a leader in high intensity fitness and weight loss programs, has developed a long term Guided Integration program to support healthy long term weight loss and fitness goals through the use of personal fitness guides.
According to the Center for Disease Prevention, 34 percent of Americans over 20 are considered obese. With the growing evidence of a strong connection to health-related problems, FitPath at Mountain Trek launched a pilot project in 2007 in order to support and track the weight loss progress of participants leaving the program. Guided Integration is designed as a follow-up program to encourage continued weight loss success through nutrition, exercise and lifestyle changes upon completion of an initial Kick Start. Motivation and encouragement are provided through weekly check-ins via phone calls and emails from a personal Guide. The success of the pilot project confirms the benefits of a follow-up program to integrate new healthy lifestyle choices acquired during the initial one to three week Kick Start program.
Kirkland Shave, General Manager, believes the success of FitPath is based on the number of guests who do not return to the program. "Our interest lies in the lifetime success for our guests be it weight loss, nutrition, exercise or stress management goals," says Shave, "we hope Guided Integration provides the support necessary for those goals to be achieved."
The use of a support system is not a new concept. Given the scope and number of lifestyle coaches available, why would someone decide to use FitPath's program? Continues Shave, "Participants leave Mountain Trek on such on high due to their weight loss success. They want to continue to work with someone who knows the program inside and out and someone who knows how hard they worked. The Guides at Mountain Trek are professional in their approaches and provide not only support and motivation, but answers to fitness and nutrition questions pertaining to the program."
"Our Kick Start program is and continues to be a successful for our guests immediate weight loss needs," says Shave. "The Guided Integration program is there for them long term."
The Guided Integration program is being launched in conjunction with FitPath's "Remake Yourself in Spring 08" program. The newly renovated FitPath at Mountain Trek is one of three retreat centers located worldwide offering safe long term weight loss nutrition and lifestyle enhancement through high intensity activity and education.
# # #