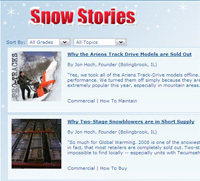 People really appreciate reassurance. They want to know if the product can perform properly before they buy it
Bolingbrook, IL (PRWEB) February 19, 2008
Product reviews are nothing new. Online shoppers have been writing reviews and rating products for years. SnowBlowersDirect.com, however, is elevating the concept to the next level with the launch of "Snow Stories" - a new interactive online review system.
View Snow Stories at Snow Blowers Direct
SnowBlowersDirect.com carries dozens of snow blowers, ranging from small electric models to massive professional-grade machines.
"The best way to pick the perfect snow blower is to ask fellow snow blower customers," according to Jon Hoch, founder and CEO. "Better yet, why not show them how the products actually perform in the field?"
Snow Stories does just that. The new platform lets customers share their snow blowing tips, triumphs and frustrations with the world.
Customers can upload images of their snow blowers in action and share their real-life experiences. In addition, customers can review multiple tools at once, illustrating how a combination of products solved their particular needs.
Hoch has already submitted several Snow Stories, including actual photos of what happened when he neglected to use his snow blower during a small storm.
What Happens When You Don't Snow Blow
"Snow Stories provides the forum for customers to brag about the recent blizzard or to demonstrate how a new accessory made their life easier," said Hoch.
It also gives online shoppers a unique opportunity to experience snow blowers in action, so they can make smarter purchasing decisions.
"People really appreciate reassurance. They want to know if the product can perform properly before they buy it," said Hoch.
SnowBlowersDirect.com is rewarding contributing customers. The online superstore is shipping a free can of Sno-Jet Spray to every customer who uploads a Snow Story photo. Several customers have already contributed.
Snow Story about the Snow Joe Electric (19") 13.5-Amp Snow Thrower
Power Equipment Direct owns four niche online superstores. In addition to SnowBlowersDirect.com, the Bolingbrook, IL-based company operates AirCompressorsDirect.com, ElectricGeneratorsDirect.com and PressureWashersDirect.com
###