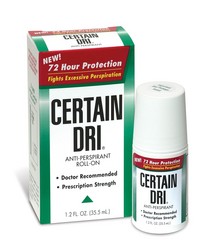 It really should be a last resort of sorts for the most serious hyperhidrosis sufferers who can't find other relief.
Edison, NJ (PRWEB) February 15, 2008
According to the Certain Dri Perspiration Poll, 45 percent of American adults report that underarm sweating is either "sometimes" or "often" a problem for them and 42 percent of this group said they, as a result, worry about having body odor.
"While there are a few hundred thousand individuals officially diagnosed with excessive underarm sweating -- or axillary hyperhidrosis -- there are millions more who perceive their perspiration to be a problem, creating a large group looking to explore options to remedy the situation, but who many not be candidates for medical procedures," explains David Bank, M.D., dermatologist and director of The Center for Dermatology, Cosmetic and Laser Surgery in Mount Kisco, N.Y.
Although the U.S. Food & Drug Administration has approved Botox to treat excessive underarm sweating, Dr. Bank recommends that most people start with the least invasive and expensive options first. Dr. Bank is a proponent of non-prescription antiperspirants, such as Certain Dri® Anti-Perspirant. "While Botox is extremely effective, it can get costly or be uncomfortable for many patients who don't like needles," he says. "It really should be a last resort of sorts for the most serious hyperhidrosis sufferers who can't find other relief."
The following are some non-surgical treatments recommended by Dr. Bank to treat excessive underarm sweating:

Over-the-Counter Antiperspirants: These non-prescription, topical products (available in aerosol, gel, stick and roll-on) are used to inhibit sweat by reducing pore size or by temporarily clogging pores to block perspiration. Look for antiperspirant's with 12 percent aluminum chloride, like Certain Dri, which is the same active ingredient in prescription-strength antiperspirants.
Clinical studies show that Certain Dri is more than twice as effective as the leading antiperspirant brand in keeping underarms dry for up to 72 hours.
Prescription Antiperspirants: Available only with a prescription from a doctor. While very effective in controlling underarm perspiration, prescription antiperspirants contain 20-25 percent aluminum chloride in an alcohol solution, which may cause stinging and drying of the skin. Prescription antiperspirants can get costly due to doctor visits and prescription fulfillment. Apply as directed.
Oral Medications: An oral glycopyrrolate may be effective in reducing excessive sweating, but can lead to dryness of the mouth and blurred vision. A person taking this non-prescription medication needs to find just the right dose - one that controls the perspiration without giving intolerable side effects.
Botox: Tiny injections of botulism toxin type A, commercially sold as Botox, are administered in the areas of excessive perspiration, such as the armpits. Botulinum toxin is a neuromuscular paralytic agent, which inhibits the release of acetylcholine, thereby preventing stimulation of the sweat glands. This type of treatment is not for the "needle-phobic," since it can require up to 20
injections under each arm. You better have deep pockets, too, because these treatments can cost upwards of $1,000 and may not be covered by insurance. However, the results can be highly effective, though temporary: the effects can last between six and 12 months.
There isn't a "one-size-fits-all" solution, since each individual is unique. And, while some antiperspirant's are highly effective in treating excessive perspiration, it is recommended that you make an appointment with a doctor if you suddenly begin to experience profuse perspiration that you have not experienced before, since it can be related to an underlying medical condition that may need medical attention.
For more information about excessive perspiration, Certain Dri Products visit http://www.certaindri.com or http://www.certaindrifeet.com .
Harris Interactive® fielded the study from February 28- March 2, 2006, via its QuickQuerySM online omnibus service, interviewing a nationwide sample of 2,099 U.S. adults.
###