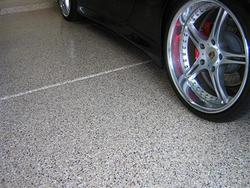 Yucaipa, CA (PRWEB) February 20, 2008
Garage floors are often not the first area you think of when you're ready to remodel your home, but a growing number of homeowners and designers are focusing their attention on these often forgotten spaces. Known for their utilitarian purposes for parking cars and storing household items and tools, customizing residential garages is a growing trend that seems to have started in the southwest, where mild weather encouraged people to spend time in their garages.
Today, garages have taken a more prominent place in the design of homes, often built to house three vehicles, and more often than not attached to the home. The Concrete Network, the largest and most comprehensive source for concrete information on the web, offers extensive information on garage floor coatings. The section details everything from available design options for updating your garage floors, floor preparation tips, installation guidelines, and care and maintenance tips.
Also known as, garage floor painting, these coatings increases resiliency to stains and hot tire marks that can often be left behind when driving over an unfinished, concrete floor. Garage floor coverings have the versatility to go with any style of décor, the available design options are limitless and caring for and maintaining your garage floor coating is simple. Maintenance consists of using a soft broom or dust mop daily, or for a thorough cleaning, washing the floor with a neutral cleaner, followed with a good rinsing. The end result is a beautiful floor with looks similar to granite or terrazzo.
Read more about concrete.
Established in 1999, The Concrete Network's purpose is to educate consumers, builders, and contractors on popular decorative techniques and applications. These include stamped concrete, stained concrete floors, concrete countertops, polished concrete, and much more. In 2007 The Concrete Network Website had over 11 million visitors researching decorative concrete.
The site excels at connecting buyers with local contractors in their area through its Find a Concrete Contractor service. The service provides visitors with a list of decorative concrete contractors throughout the U.S. and Canada, and is fully searchable by 23 types of decorative concrete work and 202 regional areas throughout North America.
Attached photos courtesy of Yezco Decorative Concrete.
###