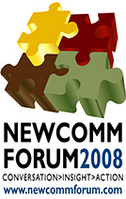 Palo Alto, CA (PRWEB) February 19, 2008
The Society for New Communications Research (http://sncr.org) today announced that New Communications Forum 2008 (http://www.newcommforum.com) will be held April 22-25, 2008 at the Hyatt Vineyard Creek Hotel & Spa in Sonoma County, Calif. Now in its fourth year, NewComm Forum is the premier conference that brings together thought leaders and decision makers to discuss the impact of social media and new communications on media, marketing, journalism, public relations, advertising, business, culture and society. New Communications Forum is produced by the Society for New Communications Research, a nonprofit, global think tank dedicated to the advanced study of the latest developments in media and communications. Event highlights will include:
Six Keynote Conversations including:

Joseph Jaffe, SNCR Senior Fellow and author of Join the Conversation;
A conversation with Richard Binhammer, Lionel Menchaca and John Pope of Dell about how social media has transformed their business, moderated by John Cass, SNCR Fellow
A NewComm Forum alumni panel featuring real-world case studies from leading organizations, moderated by SNCR Fellow Susan Getgood
A conversation about new influencers with SNCR Senior Fellow and author Paul Gillin and author Nick Hayes
SNCR Senior Fellow JD Lasica and Leonard Brody, founder and CEO of NowPublic, exploring how the media, communications and entertainment industries are quickly changing in the face of online and interactive models and evolving media habits that include iPods, gaming consoles, broadband, DVR citizen journalism and user-generated content
SNCR Fellow Elisa Camahort focusing on the transformational power of social media
40 conference sessions in five tracks:
New Communications Strategies for Public Relations & Corporate Communications
New Communications Strategies for Marketing & Advertising
The Changing Face of Journalism & The New Business of the News Media
Social Media in Politics & Public Sector Communications
Global Trends & Developments in New Communications in Business, Media & Entertainment
8 in-depth, pre-conference workshops and five post-conference social media strategy planning sessions with the Society's Fellows
Dozens of knowledgeable speakers and instructors
Networking and social activities, including association meetings and receptions, author booksignings and wine tastings, a picnic with the SNCR Fellows and the first annual SNCR Jam session (a fundraiser benefiting the SNCR)
NewComm Forum provides an in-depth, hands-on exploration of the future of communications, and has come to be known as one of the world's leading conferences focusing on the latest trends in new and emerging media and communications platforms. NewComm Forum teaches communications professionals the strategy and tactics to effectively utilize the power of new media and communications tools and trends. Presenters and instructors include the Society's Fellows as well as other senior communications professionals who have pioneered the use of new communications and social media tools and technologies. They will share their in-the-trenches experiences as early adopters of these new tools.
NewComm Forum '08 is sponsored by: CirclePoint, CleanPix, Conference Calls Unlimited, Nuance, Visible Technologies, Voce Communications, Vocus, Wasala Communications and Wieck Media. Association sponsors include: the Institute for Public Relations, Online News Association and Social Media Club. Media/analyst sponsors include BlogHer, Corante, Tekrati and Silicon Valley Watcher.
For more information and to register, visit http://www.newcommforum.com or call 650-331-0083.
About the Society for New Communications Research (SNCR)
The Society for New Communications Research is a global nonprofit 501(c)(3) think tank dedicated to the advanced study of new communications tools, technologies and emerging modes of communication, and their effect on traditional media, professional communications, business, culture and society. The Society's Fellows include more than three dozen futurists, scholars, business leaders, professional communicators, members of the media and technologists from around the globe. In addition, the Society's members include a Vendor Council with representatives from more than a dozen leading technology companies and Organizational Affiliates comprising industry associations, research organizations and other leading think tanks. For more information about the Society for New Communications Research, visit http://www.sncr.org or call +1 (650) 331-0083.
###