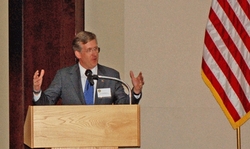 TriWest is proud of this new relationship with the CGSC Foundation and the ability to honor one of our great American leaders--Colin Powell--to perpetuate his legacy
Fort Leavenworth, Kan (PRWEB) February 15, 2008
David J. McIntyre, President and CEO of TriWest Healthcare Alliance, announced TriWest's commitment to provide the CGSC Foundation with a $550,000 gift in support of a new lecture series named after the famed retired general and former Secretary of State, Colin L. Powell. McIntyre announced the gift at a foundation dinner Feb. 12.
"This gift is tremendously significant for this new program," said Lt. Gen. Robert Arter (U.S. Army, Ret.), chairman of the board of trustees of the Command and General Staff College Foundation (CGSCF). "TriWest's generous support allows the Foundation to honor this great Soldier-Statesman by inviting prominent national and international dignitaries to contribute to the education of our nation's military leaders as part of the Powell lecture series."
The CGSC Foundation is still finalizing details for the program and according to Col. Bob Ulin (U.S. Army Ret.), the CGSCF chief executive officer; the Foundation will work with the U.S. Army Command and General Staff College (CGSC) to begin the program this year. Ulin also said having corporate partners who are intimately involved with the education of the military officers and future leaders of our nation is critical and contributes to the foundation's community outreach program.
"TriWest is proud of this new relationship with the CGSC Foundation and the ability to honor one of our great American leaders--Colin Powell--to perpetuate his legacy," said McIntyre. "We support service members and their families each and every day as part of our normal duties of healthcare administration, but contributing to the education of our nation's military leadership provides us with a different kind of opportunity to help assure the health and welfare of our troops."
TriWest is the U.S. Department of Defense's contractor for management of the TRICARE health entitlement program available to active duty military members, their families, retirees and retirees' families. When health care cannot be provided at a military installation, TriWest connects families with an extensive network of more than 129,000 community physicians, hospitals and other health care providers in the 21-state TRICARE West Region. For more information visit http://www.triwest.com.
The CGSC Foundation was established December 28, 2005 as a tax-exempt, non-profit private corporation. Programs supported by the Foundation include awards for the students and faculty, support for symposia, conferences, lectures, and community outreach activities that help connect the American people to their Army. For more information about the Foundation and how to become involved, visit http://www.cgscfoundation.org.
###