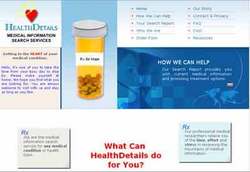 In our day and age, knowledge is everything. The more information you have and can bring to your care, the more empowered you are to make a better informed medical decision
Bothell, WA (PRWEB) February 15, 2008
Each day millions of Americans sift through thousands of health-related websites in an attempt to get their medical questions answered. For many, the amount of information available online is overwhelming, and HealthDetails seeks to make the search much easier with their entrance into the medical information market.
Today, HealthDetails announces the launch of their new website, HealthDetails.com. The new search-and-report service hopes to penetrate the medical information market and win customers with superior search reports based on clinical and research experience.
To illustrate, if a client requests information on lung cancer, HealthDetails searches medical advice online and compiles relevant information for a reasonable, flat fee. Each report varies in length depending on the request and information available, and is offered in both hard copy and PDF form.
The need to have these medical questions answered is evident by the nearly half a dozen competitors that offer products similar to that of HealthDetails. However, HealthDetails believes they have a veritable competitive advantage over similar services in existence today.
"We have a unique combination of education, clinical experience, and research skills to provide a personalized, well-organized, up-to-date, and understandable information report for people who seek medical advice online but are overwhelmed by the enormous amount of information available on the internet," says co-owner, John Anderson. HealthDetails boasts of both clinical and research experience that allows them to not only compile an organized search report, but to choose only relevant, factual information.
HealthDetails does not suggest that their search reports should be considered medical or therapeutic advice, but that the material contained in the search reports is provided for informational and educational purposes.
"In our day and age, knowledge is everything. The more information you have and can bring to your care, the more empowered you are to make a better informed medical decision," says co-owner Ellen Anderson, "Many doctors now expect you to do your homework before discussing your care, as they are well aware that they can't keep up with everything". HealthDetails strives to make dealing with health problems easier by informing our clients and promoting better communication between patients and physicians. For more information visit HealthDetails.com.
About HealthDetails:
HealthDetails is a medical information search service co-owned by John and Ellen Anderson. John Anderson - RN, MA, MS, NHA, has over 33 years experience as an educator, clinical nurse, and director of nursing services. Ellen Anderson - LPN, PhD, has experience as a professional medical information researcher, college-level educator, clinical health care provider, and has received post-graduate certificates in Biomedical Regulatory Affairs and Clinical Trials.
###