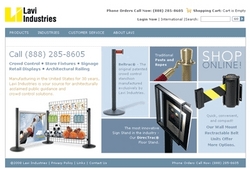 Valencia, CA (PRWEB) February 19, 2008
With the growing need for branding and marketing solutions, companies are looking for innovative ways to develop and promote brand identity. Lavi Industries, a leading provider of crowd control stanchions and signage, announces the installation of new digital imprinting machinery.
This new digital imprinting system allows for precise color matching and unprecedented image quality on the entire line of Lavi belted products and crowd control equipment. With this technological advancement in belt imprinting, Lavi's customers can imprint belts with full-color photographic images, logos, and messages. The superior imaging techniques produce rich, vibrant colors and sharp, readable text. By offering a full range of graphic capability, Lavi's technology unlocks a broader spectrum of possibilities for branding and marketing solutions.
Perry Kuklin, Director of Creative Services with Lavi Industries, explains, "Our digital imprinting process truly opens up many possibilities by making it simple to work with our clients' marketing and creative resources. It saves all of us large amounts of time while providing phenomenal results. Stanchion belts traditionally have been used for very basic branding messages such as logos, but now we are seeing much more exciting visuals and campaign specific imagery."
Additionally, clients are able to interact more closely with Lavi's fully staffed Creative Services department to create brilliant, digital results. Clients now have the opportunity to prominently display their logo or other marketing messages in the places where their customers queue. With easy to remove and install belt cartridges, changing messages to coincide with campaign or branding changes is simple.
All of Lavi's products are tested to secure the safety of their clients and their patrons. By ensuring durability, reliability, and steadfastness, Lavi is able to proudly meet and exceed their clients' expectations. This new technology provides clients with no minimum order requirements and with more styles, standard features, options, colors, and finishes, clients are able to design and purchase exactly what they need and want.
To learn more about Lavi's new digital imprinting process or their wide range of crowd control stanchions, please visit Lavi.com.
About Lavi.com:
Gavriel Lavi founded Lavi Industries in 1979. First located in California, Lavi specialized in the selling of decorative home and office products. The company has evolved into a leading manufacturer of commercial architectural products including hospitality supplies, signage, crowd control equipment, queuing equipment, and more. Lavi's wide range of clients include airlines, schools, hotels, restaurants, retail stores, museums, theatres, convention centers, and arenas. With affiliate companies, Lido Designs, Inc., Via Guide GmbH, and Q-Display, the Lavi vision is able to stretch from the United States to South Africa to Germany.
###