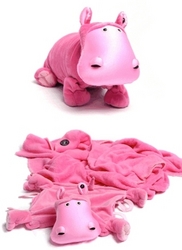 Interlaken, NJ (Vocus) February 18, 2008
In 2007, more than 26 percent of commercial flights arrived late or were canceled. It was the second worst year on record for the airline industry, and analysts predict that it is likely to get worse. Thus, it is imperative that parents traveling with kids put extra time and effort into planning, preparing and packing for their trips. First stop -- Little Jet Set (http://www.littlejetset.com) -- an online store that sells fun and functional travel products for kids.
Launched in June 2007, Little Jet Set is the brainchild of two moms, Hana Wolf and Nisha Cordero, who know how to keep young travelers comfortable, engaged and unplugged on long trips. Drawing upon their own considerable travel experience with kids, Wolf and Cordero seek out books, games, puzzles, toys, arts and crafts, and other activities that foster creativity, thinking, happiness and family interaction, and absolutely nothing with batteries or licensed cartoon characters. Plus, everything is specifically designed for, or appropriately packaged, for travel.
To keep kids comfortable, Little Jet Set offers super soft travel pillows and blankets in bright colors, fun patterns and animal designs, as well as plush travel companions. And to carry all this great stuff, parents can choose from a wide selection of fun and functional kids' luggage, backpacks, totes, diaper bags, and even lunch bags for packing healthy snacks.
For families getting ready to take a trip by car, plane, boat or train, here are a few Little Jet Set favorites to consider:
3-in-1 Travel Pet from Zoobie ($30.00)
This is the ultimate travel blanket and pillow for kids. The Travel Pet from Zoobie is a cuddly plush friend that unfolds and unzips to reveal a super soft pillow and blanket for snuggling when it's time for sleep. Bonus - the blanket detaches for easy washing. Little Jet Set offers six styles of Zoobie Travel Pets -- Rhaxma the Rhino, Ellema the Elephant, Hada the Hippo, Lencho the Lion, Kojo the Croc and Jafaru the Giraffe. Age 3+
Trunki the Ride-On Suitcase ($40.00)
Trunki is the world's first ride-on suitcase for kids developed to keep kids from carrying heavy bags and hurting their backs. Trunki is available in blue (Terrance) and hot pink (Trixie). Kids can pull the suitcase themselves, ride it as they would a ride-on toy, or let Mom or Dad pull them along. Weighing only 3.8 pounds, and measuring 18 in. x 8 in. x 12 in., Trunki is an ideal carry-on bag for kids. Ages 3-6.
Automoblox Minis -- 3 Pack ($27.00)
Small enough to fit in the palm of a child's hand, Automoblox Minis are the perfect take along toy. The Minis, currently available in green, blue and yellow, with more colors to come, are a scaled down version of the full-size award winning Automoblox. The Minis boast 'future-retro' styling and are constructed of solid beech wood, rubber and polycarbonate. While each vehicle is unique, all the parts are removable and interchangeable with other vehicles, allowing for endless design possibilities. Age 3+
Ocean Sketch + Draw + Color from Mudpuppy ($18.95)
This new product from Mudpuppy is a fun, compact art activity set for budding artists. Each Sketch + Draw + Color set includes a spiral-bound sketch/activity book with 60 pages of creative activity suggestions and 24 blank pages and 14 jumbo non-toxic colored pencils. Kids can design their own fish, draw a puffed up pufferfish, give a sea urchin its spines, and create lots of other briny friends. The pencils can be safely stowed in the attached plastic pocket. Bugs Sketch + Draw + Color also available. Age 6+
Rush Hour Mini Play Scene Sticker Set from Mudpuppy ($8.95)
This mini play scene includes cars, trucks, scooters, roadsters, and even a VW Microbus! This portable fun for kids comes with over 40 reusable vinyl stickers. Printed with non-toxic ink, this mini play scene meets both European and US safety standards. Also available in Very Funny Faces. Little Jet Set also sells the following full size sticker play scenes ($12.00): A Day at the Zoo; At the Airport; Fun and Dance; Map of the USA; Map of the World; On the Construction Site; and Pirates. Ages 3+
About Little Jet Set:
Little Jet Set was conceived in November 2006 (site launched in June 2007), by Hana Wolf and Nisha Cordero, two time-constrained moms and attorneys who were frustrated with how much time and effort went into preparing and packing for family trips. They were tired of spending countless hours going from store to store either online or on foot in search of everything they needed to ensure the most enjoyable and least stressful travel experience possible. Enter Little Jet Set: a one-stop shopping destination for everything a parent needs to make traveling with kids easy, fun and educational.
###