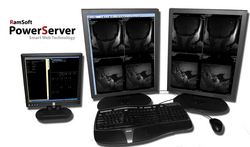 The European medical imaging market is growing rapidly and has us excited
Toronto, Canada (PRWEB) February 15, 2008
RamSoft, a developer of innovative RIS and PACS software will be announcing the expansion of its international distribution network into Europe at this year's European Congress of Radiology (ECR Booth 458). The company is inviting healthcare solution providers, imaging equipment manufacturers, networking IT companies as well as sales professionals to inquire about exclusive territorial partnerships.
"The European medical imaging market is growing rapidly and has us excited," says Vijay Ramanathan, President and CEO, RamSoft Inc. "Our test territories have shown enormous potential and have yielded great results thus far. We hope to continue that success across Europe by partnering with the industry's best and brightest."
In a move to provide greater customer choice, RamSoft is actively recruiting distributors and reseller partners to support its entry into the new territories through the international VAR program. This program is designed to work around the distributor's business goals and facilitate a relationship where both parties prosper. Authorized distributors will receive exclusive regional distribution rights to the entire product catalog.
RamSoft provides a range of web-based RIS, PACS, and DICOM medical imaging solutions that meet the needs of imaging organizations who demand the highest reliability and availability. These solutions range from entry-level PACS all the way to complete RIS/PACS solutions; which have been field-proven across facilities of various sizes. All imaging solutions have been localized to meet the unique language requirements of each region.
RamSoft Inc. has been developing quality medical imaging software since 1994. They provide a range of RIS/PACS services and solutions to various parts of the imaging marketplace; specializing in ambulatory, acute, and teleradiology segments.
The European Congress of Radiology represents the medical specialty of Radiology throughout Europe and the Mediterranean. This year's ECR congress will be held from March 7-11, 2008, in Vienna, Austria.
###