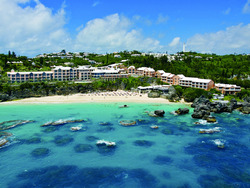 Because of their affiliations with hotel properties, private residence clubs are not affected by these regulations.
Southampton, Bermuda (Vocus) February 15, 2008
This may be one of the most memorable years for Bermuda visitors as many could receive their vacations for free. The Reefs Club, a new luxury private residence club due to open next year, will reimburse Bermuda visitors up to $5,000 toward the cost of their 2008 vacation should they decide to buy. Reimbursement will be made at closing.
The Reefs Club is being built next to The Reefs, a hotel widely recognized as the best in Bermuda. In order to ensure everyone coming to Bermuda has an opportunity to enjoy a free vacation, the offer is being extended to all Bermuda travelers regardless of where they stay on the island.
"We encourage people to visit and discover what The Reefs Club offers Bermuda enthusiasts," says developer David Dodwell. "Of course, we would like to have everyone stay at The Reefs to experience our hotel, however, we are usually sold out during the busy summer months. For this reason, we decided to extend the Free Bermuda Vacation offer to buyers who may be vacationing elsewhere on the island. We welcome those who are interested in having a luxurious Bermuda vacation home to enjoy a personal tour of The Reefs Club during their visit and learn about our exciting ownership opportunity."
The Reefs Club features lovely, fully furnished two- and three-bedroom residences with unobstructed ocean views seen through a dramatic wall of windows. Homes are just steps away from the hotel's three gourmet restaurants, a spa, a private pink sand beach, and world-class diving and snorkeling. Amenities include an owner's lounge, infinity-edge pool, fitness center and rooftop putting green with impressive views of the Atlantic. A dedicated concierge coordinates dinner reservations, golf tee times and on-site spa appointments and other island adventures. Ownership at The Reefs Club starts at $345,000.
"Owning at a luxury fractional development such as The Reefs Club is essentially the only feasible way for foreigners to own real estate in Bermuda," explains Dodwell, referring to the government policy that severely restricts the amount of real estate that can be sold to non-Bermudians. "Because of their affiliations with hotel properties, private residence clubs are not affected by these regulations."
Currently, there are only 12 homes for sale in Bermuda starting at $4.8 million and 10 condos with an average price tag of $2 million. The Reefs Club proves to be a more affordable and convenient way to enjoy the benefits of vacation home ownership on the island with the added benefits of all the features of a world-class hotel.
For more information about The Reefs Club please visit http://www.reefsclub.com or call the sales office at 866.399.9568.
Media inquiries may be directed to Hilary Reiter 435.645.7500 x105
###