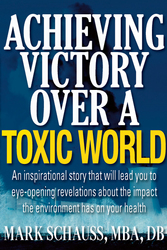 Reno, Nev. (PRWEB) February 19, 2008
Dr. Mark A. Schauss is an internationally acclaimed speaker, who has spent the past 20 plus years creating clinically applicable interpretive reports for medical laboratory tests. His work, driven by his daughter Tasya's seizure disorder, has gained comprehensive insight into a wide range of neurological disorders including epilepsy, autism, neurodegenerative diseases, ADHD and a vast array of other health problems.
Achieving Victory Over a Toxic World (published by AuthorHouse) is both an inspirational story about his daughter's battle with epilepsy, which started in Incline Village, Nevada, and a guidebook to deal with today's toxic environment in general. Written with the idea that health should be more than the lack of disease, Dr. Schauss' message is about living a vibrant life full of energy and hope.
Upon reading this four-part book, another accomplished author, Dr. Robert Zieve of the Pine Tree Clinic in Prescott, Ariz. said:
Mark Schauss has written a very important book, a book that needs to be required reading for all practitioners. The title wakes us up to the reality that we live in a toxic world. While we sit around and debate whether our world is toxic, or watch media headlines about lead-poisoned toys from China, headlines that soon disappear, the volume of toxins that are affecting our daily lives and especially the lives of our children, continues to grow in both amount and harmfulness.
After reading this book, I wondered what good it is to even discuss health care from any political or economic perspective without placing the topics in this book at the center of the discussion of how we develop a system of effective and affordable health care for everyone.
The only way to end denial is to name the realities and claim responsibility for those realities. This book enables us to do this.
Achieving Victory Over a Toxic World outlines effective "common sense tips" on how to deal with the growing problem of environmental toxicity in an honest and forthright manner that the reader can put into effect immediately. The compelling story serves to emphasize the reality of the issue of environmental toxicity and the existing implications for the world at large.
For more information, please visit http://www.markschauss.com and http://www.toxicworldbook.com.
AuthorHouse is the premier publishing house for emerging authors and new voices in literature. For a complimentary copy of this book for review, members of the media can contact the AuthorHouse Promotional Services Department by calling 888-728-8467.
###