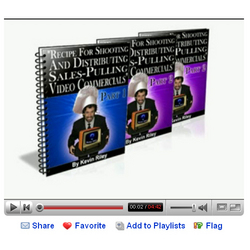 As someone who had previously focused on online marketing through traditional search using PPC and SEO, I initially assumed that video sharing sites were going to be a fad with little marketing potential
Tokyo, Japan (PRWEB) February 16, 2008
According to data at Alexa.com which ranks websites according to their visitor traffic, Web 2.0 video sharing site Youtube.com has now overtaken Google.com as the world's second most visited website. Is this proof that video search marketing has come of age and is becoming a threat to traditional online search? "The proof is in the pudding," claims one prominent internet marketer.
After noticing a massive spike in popularity and traffic at video sharing sites such as Youtube.com starting early last year, internet marketer and website traffic expert Kevin Riley decided to see for himself if online video had more than just entertainment value.
"As someone who had previously focused on online marketing through traditional search using PPC and SEO, I initially assumed that video sharing sites were going to be a fad with little marketing potential," explains Riley. "But when I noticed niche content videos posted to these sites were getting a massive number of views and also showing up high in the search engine results pages for relevant keywords, I knew the potential for marketing with videos was about to explode."
Riley immediately began testing the possibilities of this new type of marketing by creating videos with content related to his and his clients' websites. "I started making short informative movies relating to the topic of the sites I market using desktop software and uploaded them to these video sharing sites - the response was incredible, with many people viewing, leaving comments and interacting with the videos."
Once he saw that these videos would find their target audience, the next step was to see if these viewers would turn into targeted visitors to his websites. He wasn't let down.
"Although I was excited at the traffic these videos received, I was even more surprised when I noticed that these promotions really did increase website traffic to our sites that converted into leads and sales," says Riley. "In fact, the conversion rates on some of our video promotions are as good as the results we get with some of our traditional search campaigns."
Does Riley believe that these results and Youtube.com's recent jump to world's second most visited website prove the value of marketing with online video?
"Video search marketing is here to stay," proclaims Riley. "Although video search is more of a compliment than a threat to traditional search, especially since Google wisely acquired Youtube, it has already proven itself as a necessary component of any effective online marketing campaign."
And in true meta-marketing style, Riley drives home his point by revealing his latest online video marketing campaign actually targets people interested in marketing with video. "Anybody searching for how to generate website traffic will likely see one of my videos listed in the first page of the SERPS," boasts Riley. "It only seems right, that if you're going to evangelize about a particular method to increase website traffic, that you actually use that method to get the word out."
For those interested in learning how to effectively implement the latest online methods for marketing their online and offline businesses, Kevin invites them to contact him or visit his main website where they can sign up for his newsletter and explore his latest tools: http://productcreationlabs.com
###