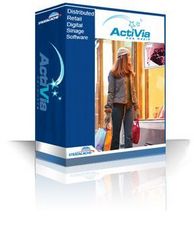 ActiVia for Media 3.2 represents a huge engineering effort resulting in the most scalable, advanced system for easily managing even larger, more complex digital signage networks, thus providing improved opportunities for reaching customers precisely when and where they are spending money
(Vocus) February 19, 2008
STRATACACHE recently announced its release of ActiVia for Media 3.2, an updated, more robust version of its award-winning digital signage solution. ActiVia for Media 3.2's new feature set includes multi-layering capabilities for single or multi-display players, which allows users to present multiple layers of digital media content within their digital displays across the entire network.
STRATACACHE's new ActiVia for Media 3.2 is a more robust version of its proven digital signage solution. ActiVia for Media is a highly optimized, web-accessible solution for powerful digital marketing that combines STRATACACHE's patented content delivery platform with state-of-the-art digital broadcasting technology. With its new multi-layering features, ActiVia 3.2 can manage the digital signage lifecycle for multi-layered playlist creation, distribution, and monitoring of digital signage networks containing up to 100,000 concurrent devices. Users now have the option of displaying a combination of multiple types of digital media such as video, images, and tickers all at once on a single screen or multi-screen array.
"ActiVia for Media 3.2 represents a huge engineering effort resulting in the most scalable, advanced system for easily managing even larger, more complex digital signage networks, thus providing improved opportunities for reaching customers precisely when and where they are spending money," says Steve Bannister, STRATACACHE VP of Engineering.
The process for creating and managing digital media playlists is made easy with ActiVia 3.2. Digital objects are imported (images, rich video, animated presentations, HTML files, flash demonstrations, text-based messages, etc.) into a secure authenticated content manager. Users can then create multi-layered screen layouts for various types of content and, with simple drag-and-drop tools, create playlists by selecting the digital content and determining the time and duration for each element.
Next, users schedule the date and time for the playlist playout to designated media devices using a simple calendar interface. ActiVia 3.2 distributes the content to the player devices throughout the network. Each of those devices is continually monitored in case any operational problems occur. If a problem arises, notification is sent to the ActiVia management console.
ActiVia 3.2 gives users the power to create a fully-integrated multimedia network. Features include:

Multi-layered playlist creation using a simple drag-and-drop tool
Instant or pre-scheduled unicast or multicast content distribution to any single player, group of players, or all players simultaneously
Centralized backup and restoration of media player configurations
Centralized push of configuration template files
Ability to select players for distribution by player properties or geographical location
Simple, elegant interface that facilitates use by marketing personnel
Advanced display layout and content scheduling tools
Powerful, role-based access control system
Multi-user, multi-channel, multi-tenant system capabilities
Powerful visual status reporting on global display status and health
Remote management of players and devices
Cost-effective and hardware-agnostic.
ActiVia can be purchased as a customer-deployed solution, through a software as a service (SAAS) arrangement, or as a managed service via STRATACACHE or STRATACACHE partners worldwide.
About STRATACACHE:
STRATACACHE is the world leader in efficient, scalable and cost-effective content distribution, digital signage/digital media presentation, IP business television, and application acceleration solutions for highly distributed, network connected organizations. Serving Global 2,000 customers in the retail, finance, service, manufacturing, and government markets worldwide, STRATACACHE's products transparently solve large-scale content distribution, digital media, and application performance challenges while immediately providing tangible return-on-investment and dramatically improved user satisfaction. STRATACACHE is based in Dayton, Ohio, USA and is privately held. For more information please visit http://www.stratacache.com or e-mail info @ stratacache.com.
Contact:
Betsy Mendenhall
bmendenhall @ stratacache.com.
937.224.0485
###