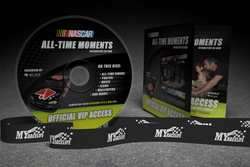 We are thrilled to have a spokesperson with the depth and breadth of racing knowledge and experience like Kenny Wallace
Concord, NC and Vista, CA (PRWEB) February 16, 2008
SPEED TV personality and 50th Anniversary Daytona 500 Qualifier Kenny Wallace announced today he is now the spokesperson for the 2008 Series of NASCAR's Interactive Trading Cards as part of a multi-faceted personal services agreement.
The deal features Wallace giving his personal insights on the exclusively-licensed NASCAR content that comes to life on personal computers through an animated tri-oval track. The "Hermanator" will help fans navigate the super-charged CD-ROMs loaded with videos, pictures, music and much more. The official NASCAR Interactive Trading Cards are specifically designed for use in personal computers and CD/DVD players.
Wallace will also contribute to the MyRaceLife.com on-line community with blogs, insights and news. Further, KennyWallace.com, the Kenny Wallace Fan Club, and 4DCard will work together to deliver a wide range of new content and technology to each other's online initiatives.
"We are thrilled to have a spokesperson with the depth and breadth of racing knowledge and experience like Kenny Wallace," says Thomas Carter, CEO of 4DCard. "His ability to go from the track to the living room and cross racing genres is exactly what fans want on the 4DCard. "With 4DCard, it's like having a new virtual member on the pit-crew," comments Wallace. "I mean we got guys for tires, for fuel, and now we have 4DCard for the Internet and computers. I knew I wanted to be a part of this when I first saw the CD-Rom playing these classic videos in my computer. Then I could jump right onto the Internet with a mouse click!"
4DCard's first title "NASCAR All-Time Moments" will be featured as a premium give-away through the 2008 NASCAR season. The Premium offers NASCAR sponsors, licensees and other affiliates an innovative, high-tech way to activate and connect their brands with the NASCAR fan via 4DCard's social community at http://www.myracelife.com. Sponsorship participation ranges from the title sponsor to an active link on the Interactive Trading Card and gives NASCAR Affiliates unique flexibility in further activating their NASCAR involvement.
About Kenny Wallace:
In 1982, Kenny Wallace won the first race that he ever entered, "The Illinois Street Stock State Championship". Since that day, Kenny's success has garnered many accolades and produced milestones throughout his career, including winning 9 NASCAR Busch Series races, winning 10 NASCAR Busch Series pole awards, and being voted Most Popular Driver in the NASCAR Busch Series three times. Over the years, Kenny Wallace has built a reputation as one of NASCAR's most colorful and well known personalities. Kenny's popularity still continues to escalate with the success of SPEED Channel's NASCAR RaceDay, the most popular NASCAR pre-race show, and NASCAR Victory Lane.
About 4DCard, Inc:
4DCard, Inc. is a leading multi-media marketing company providing one-stop interactive media marketing solutions to sports and entertainment properties. With an innovative approach to identifying and engaging consumers - the Southern California based company helps brands develop and grow one-to-one relationships with their customers by blending brands, icons, and technology to better know their customers and engage them with entertaining and informative products and services. The company has developed a wide array of multimedia marketing solutions that it delivers through Internet, CD/DVD-ROM and mobile applications. For further information please visit http://www.4dcard.com.
Contacts:
Allison Marshall
Kenny Wallace Racing, Inc.
704/902-7151
Thomas Carter
4DCard, Inc
760/845-7545
###