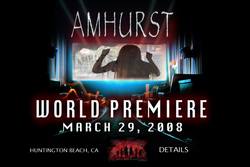 Our premieres have always been exciting and this one promises to be the best yet.
Huntington Beach (PRWEB) February 19, 2008
LifeLine Entertainment Film Company is hosting the highly anticipated World Premiere of their new Supernatural Thriller, "Amhurst," on March 29th at the Huntington Beach Central Park Playhouse, with all of the film's stars expected to participate. This gala celebration for LifeLine's fourth feature-length motion picture will be the first time that the general public has been invited to at no charge, however because of the extensive guest list, seating will be limited.
Commenting on the announcement, Amhurst director Rocky Costanzo said, "Our premieres have always been exciting and this one promises to be the best yet." LifeLine Entertainment is extremely excited about the upcoming release of 'Amhurst' and they plan on pulling out all the stops to give it the send-off it deserves with an exciting red carpet gala event in Huntington Beach.
"Amhurst" is a supernatural thriller/horror film that's best described as; "The Amityville Horror" meets "The Shining." After the death of her abusive grandfather, Rebecca Cabot (Amy Tiehel) returns to her childhood home where the ghosts of a past long buried are about to be resurrected. Accompanying Rebecca on the trip, are her children, 13-year-old Jessie (Stephanie Hullar) and 12-year-old Alex (Alec Hogan). She plans only to stay long enough to bury her grandfather and to settle his estate, when almost immediately the family experiences strange events. Phones don't work, the house has a strange odor, the townsfolk are distant and eerily standoffish, the children grow increasingly unhappy and withdrawn, and Rebecca is plagued by nightmares of her missing sister. And things get worse from there. Rebecca's one saving grace is a man by the name of Owen Miller (Jesse Buschini) whom she first encounters on the drive up when she sees him hitchhiking on the side of the road. Turns out, he also grew up in town and knows of her family. Together they try to unravel the mystery of what is really going on. Is grandpa Barnes back from the dead? Are Rebecca's frightening nightmares a warning from her dead twin sister? Or is there something else behind the strange happenings?
Amhurst was filmed up in the San Bernadino National Forest, city of Big Bear, where the cast and crew set up camp at an old Victorian-style house, which is know by locals to be haunted. A perfect setting for a film of this nature.
The filmmakers continue to "keep it local" having hosted their two previous premieres in Huntington Beach, where the company operates. In 2006, they premiered their retro-horror film "Hallowed" at the Bella Terra Century Theaters. Hallowed was released later that year through Universal's Indie label. Last year the gang premiered their music documentary, "Almost Beautiful" at the Huntington Beach Central Park Theater. "We're really starting to see the local support which wasn't there five years ago." explains Costanzo,
What:
The world premiere screening of "Amhurst," the supernatural thriller from director, Rocky Costanzo
Who:
"Amhurst" cast members Amy Tiehel , Alec Hogan, Stephanie Hullar,
Jesse Buschini, Todd Svoboda, Rob Lanza, Tina D'Marco, Christopher Carrington, Tim Field, Martie Ashworth, Janet Nelson, Marshal Hilton, Noel Guglielmi, writer Lisa Costanzo, producer Christopher Wolcott, executive producer, RoyThomasson and director Rocky Costanzo, Plus, many additional celebrity and filmmaker guests. List available to press/media upon request.
Where:
Huntington Beach Central Park Theater
7111 Talbert Avenue, Huntington Beach, CA 92648
When:
Saturday, March 29, 2008
5:00 p.m. Press Call Time
6:00 p.m. Celebrity Arrivals
7:00 p.m. Screening Begins
"Amhurst" will be released later this year.
About The Filmmakers:
In the company's eighth year, LifeLine Entertainment has produced four feature-length motion pictures and a few short films. Based in Huntington Beach, California, LifeLine Entertainment is a true independent movie company with a mission to create and develop the finest of cutting edge films and present them in creative, stylish and informative ways. More information about LifeLine Entertainment can be found at http://www.lifelineentertainment.com. Information on Amhurst can be found at http://www.amhurstmovie.com & http://www.myspace.com/amhurstmovie or at IMDB.
###