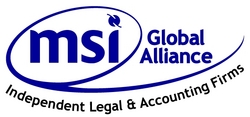 We are building something very special for the world of business - an alliance of independently-minded, professional firms, that by working together, are capable of providing sophisticated cross-border advisory services to their internationally-focused clients
(PRWEB) February 20, 2008
MSI Global Alliance announces sponsorship of IBA First Conference of The Americas in Mexico City and appointment of Argentinean law firm member García Menéndez Abogados.
The world's leading international alliance of independent, mid-sized legal and accounting firms, MSI Global Alliance (MSI), (http://www.msiglobal.org) has its sights firmly fixed on making key law firm appointments in Latin America in 2008.
As part of a campaign to attract new law firms to the alliance, MSI will be one of a select group of exhibitors at the IBA Americas Conference taking place in Mexico from 27-29 February. The event is expected to attract over 500 private practitioners and corporate counsel from the Latin and North America regions.
"We are building something very special for the world of business - an alliance of independently-minded, professional firms, that by working together, are capable of providing sophisticated cross-border advisory services to their internationally-focused clients," says MSI's Chief Executive James Mendelssohn.
"Our firms are deliberately mid-sized in their marketplaces, but what they lack in size, they compensate for in agility, entrepreneurial spirit and a commitment to providing partner-level support to their clients.
"Our sponsorship of this prestigious IBA conference is an integral part of our strategy to increase our law firm presence in Latin America - MSI offers a great opportunity for the right firms to extend globally with their clients, and to serve member firm clients from Europe, North America and Asia that are looking to invest in emerging Latin America markets.
"Our key focus is on recruiting internationally-focused, independent law firms from Bolivia, Brazil, Chile, Colombia, Guatemala, Paraguay, Peru, and Venezuela. We invite interested firms to come forward," adds Mendelssohn.
The first step in MSI's expansion into Latin American was formalised last week with the appointment of García Menéndez Abogados in Buenos Aries. Recognised by Euromoney and Global Competition Review for its reputation in international trade and anti-trust and unfair competition respectively, the firm has been selected by MSI for its broad experience in advising foreign clients on company incorporation, immigration requirements, mergers and acquisitions, commercial contracts, and stock exchange listings.
"Many Argentinean companies are taking advantage of a strong export market to expand their business activities internationally. Our MSI membership is vital to ensuring these clients will be well looked after by firms like ours," says Sebastián García Menéndez, the firm's managing partner.
"Foreign companies are also keen to benefit from the lower cost base that can be achieved by setting up business centres in Argentina, and our links to clients and professional firms in 100 countries ensure we are well positioned to build a strong international practice," adds García Menéndez.
###