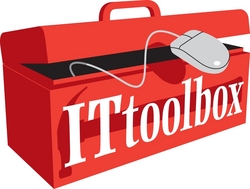 Scottsdale, AZ (PRWEB) February 19, 2008
ITtoolbox, the online community where professionals share IT knowledge and best practices, today announced that co-founder and CEO, Dan Morrison, will be a keynote speaker at the upcoming Online Marketing Summit in San Diego.
During the keynote forum, titled "Social Networking Success," Morrison will share knowledge gained from growing a successful B2B online community. He will also discuss views on the shift in media consumption to include social media sources both for consumer and business audiences, and how marketers are adapting to reach their targets in this changing environment.
View the full agenda for the Online Marketing Summit: http://www.onlinemarketingsummit.com/
Who: Dan Morrison, Co-founder and CEO, ITtoolbox
What: Keynote Address, Online Marketing Summit
When: Friday, February 22, 2008, 8:30 AM
Where: Sheraton San Diego Hotel and Marina
About ITtoolbox
ITtoolbox is an online community, enabling peers to share professional knowledge about information technology. Since 1998, ITtoolbox has helped professionals make IT decisions and stay current in the rapidly changing technology market through peer collaboration. The ITtoolbox platform incorporates a professional network, blogs, discussion groups and a wiki, facilitating targeted community interaction in which IT advertisers can participate through a proprietary contextual matching system. This combination of community and advertising value has made ITtoolbox a leading destination for professionals and a leader in online advertising, performing for more than 800 clients, including Microsoft, IBM, Oracle, Dell and HP. ITtoolbox is a division of the Corporate Executive Board (NASDAQ: EXBD). For more information visit http://www.ITtoolbox.com.
About Online Marketing Summit
The Online Marketing Summit is an invitation only, "vendorless" educational forum for Marketers from leading companies who gather annually to share best practices and learn from expert online practitioners. OMS is built around content that drives action and delivers insight that Marketers can use and build into marketing plans. This summit's sole objective is to educate, collaborate, network and learn how to execute the best known practices in Online Marketing.
To schedule an interview with Dan Morrison during OMS, please contact:
Kim Miller for ITtoolbox
617-610-0583
###