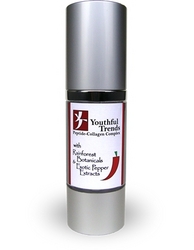 Albany, NY (PRWEB) February 20, 2008
Hillary Clinton says she eats hot peppers everyday for health and vitality, but did you know spicy peppers can also fight aging skin by abolishing wrinkles? A new peptide-collagen anti-aging serum from SiCap Industries uses the power of hot peppers and acai berries to tighten wrinkled skin and increase the natural production of collagen and elastin.
SiCap Industries made "Hot Pepper" history in 2003 with Sinus Buster, the world's first capsaicin headache nasal spray. Now the company is launching a hot pepper anti-wrinkle cream under the brand name "Youthful Trends".
According to the company's founder, Youthful Trends succeeds where other wrinkle creams fail. As for the pepper - there is no burn.
"We've been working with pepper based creams since 2004 when we launched Peppercare skin conditioner. Everybody thinks a pepper based cream has to burn, but you only need a tiny amount of extract to do the job so there is no burn. The pepper extract increases blood flow and absorption at the skin's surface so the ingredients penetrate immediately. Traditional anti-wrinkle creams have the right idea by using collagen and peptides, but the ingredients don't penetrate the skin the way Youthful Trends does. You can literally put your makeup on immediately after applying Youthful Trends," says Wayne Perry.
Science has proven that collagen and peptides are important keys to fighting wrinkles, but they cannot be fully absorbed through the skin without some help. The Youthful Trends formula increases the skin's permeability thanks to Capsaicin, a natural chemical found in hot peppers that acts as a delivery agent for the collagen and peptides. In addition, this unique formula also fights free radicals thanks to the rainforest botanical Acai Berry. The Phytosterols found in acai berries are known to preserve natural collagen levels that drop by more than 1% yearly after age 25.
Wayne Perry believes that with the introduction of Youthful Trends, SiCap Industries is poised to make a big splash in the anti-aging skin care market at a price that makes it available to all women.
"The key to topical beauty products is the delivery. You can put the greatest ingredients on your skin, but if your skin doesn't absorb them then what's the point? We've been using capsaicin in our skin care products for the past four years and the results have been amazing. Aside from working better than traditional anti-aging creams, Youthful Trends costs alot less than other competitors. It retails around thirty nine dollars for a two month supply so you don't have to spend half you're your paycheck to get younger looking skin".
SiCap currently markets several popular capsaicin skin care products including Capsiderm, a Chili Pepper body wash that deep-cleans pores and fights acne.
# # #