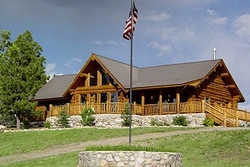 There is a huge demand for the comprehensive services we can provide buyers and sellers of real estate in rural America
Kansas City, Mo. (PRWEB) February 19, 2008
The residential real estate market throughout the country may have slumped in 2007, but that was not the case for the markets served by United Country Real Estate, which recorded its best year ever since its founding more than 80 years ago.
"There is a huge demand for the comprehensive services we can provide buyers and sellers of real estate in rural America," says Dan Duffy, CEO of United Country Real Estate. "With a well-documented migration from urban to rural areas, there is a tremendous demand today for rural property."
United Country is the only national real estate franchise system specializing in all property types in and around small cities and towns across America. The Kansas City-based company will hold its 2008 annual convention February 21-24 here with a goal of continuing the momentum.
United Country's sales volume hit a record $2.54 billion in 2007--an increase over the previous record of $2.53 billion achieved in 2006. The average sale price was up by 4.1 percent and listings increased 18.6 percent. Franchise sales jumped by 32.4 percent, and the number of affiliate offices grew by 17 percent to 700.
Today, United Country supports over 4,000 agents and 700 offices located across the United States and markets a national database of over 60,000 properties per year valued at more than $9 billion.
"More people are migrating from urban and suburban centers to the country. We have the professionals and national network to help every step of the way," says Duffy. "Many people are seeking a better life and a better lifestyle. We call them 'idyllic lifestyle seekers' and as many as 1 million of them visit our website each month to look at properties that meet their particular needs."
United Country's website (http://www.unitedcountry.com), the leading rural real estate website, saw dramatic increases in 2007 as people searched for their ideal properties. User sessions were up 14 percent, with an average of over 28,000 user sessions per day. Unique visitors to the site were up by 6 percent per month. Further underscoring this continued demand for rural properties was seen in United Country's website traffic in January 2008, when new records were broken in all website traffic categories.
"Technology advances have broken down many of the barriers to living in rural areas," notes Duffy. "People can now live in the country, and still have the same access to the Internet, satellite, cable, mobile phones and other technologies they require on a daily basis. This more developed technology infrastructure allows for remote working and social connectivity."
Continuing a long history of innovation, United Country Auction Services was launched in 2007 with 52 auction-centric offices opened across the country. The new division has already established itself as the nation's largest integrated network of auctioneers and traditional real estate professionals. Overall sales volume from auctions in its first year reached $96 million, with its highest grossing single auction at $4.2 million.
In late 2007, the company partnered with the nation's sixth-largest financial holdings company, U.S. Bank, to form United Country Home Mortgage. Backed by more than $100 billion in loan value and assets over $200 billion, United Country Home Mortgage offers potential buyers more than 200 loan options.
In December, United Country Real Estate also introduced United Country Health Plans to provide owners, brokers, agents and their families with comprehensive and affordable health insurance plans. With more than 3,000 plan variations and an extensive network of more than 750,000 national providers, the program is administered by Affinity Health Plans and is one of the most comprehensive health insurance programs available today.
Last July, United Country Real Estate and Ducks Unlimited formed a unique partnership dedicated to conservation and land stewardship in a joint effort to conserve vital wetlands and habitats throughout North America. The goal is to educate United Country associates, land buyers and sellers about land easements, value, conservation and habitat protection.
In November, the national Future Farmers of America (FFA) selected United Country Auction Services to conduct a live auction fundraising event sponsored by the FFA Alumni Association. The auction set a fundraising record of $84,000, drawing in nearly 850 on-site bidders and more than 40 online bidders.
In 2006, The Wall Street Journal analyzed more than 2,500 U.S. based franchise systems across all market segments and named United Country Real Estate to its coveted list of 2006 "Top 25 High Performers."
United Country Real Estate started 2008 on the right foot when Entrepreneur's Franchise 500®, the world's most comprehensive franchise ranking, recognized the company on its 2008 list of top franchises. United Country achieved the No. 101 overall ranking on the Franchise 500 list.
United Country Real Estate
United Country Real Estate is the only national real estate franchise system specializing in rural properties in and around the small cities and towns of America. Based in Kansas City, Mo., the company has been an innovator in rural real estate marketing since 1925. United Country supports more than 700 offices nationwide with a unique, comprehensive marketing program that includes the leading website in the rural real estate market (http://www.unitedcountry.com ), proprietary real estate catalogs, an extensive buyer database and national advertising of real estate properties to over 90 million homes a week. United Country has been named as a Top 25 Franchise by the Wall Street Journal and among Entrepreneur Magazine's Franchise 500®. In January 2007, the company introduced United Country Auction Services, becoming the nation's largest integrated network of traditional real estate agents and real estate auctioneers.
NATIONAL HEADQUARTERS
2820 NW Barry Road, Kansas City, MO 64154
816-420-6200 http://www.unitedcountry.com
###