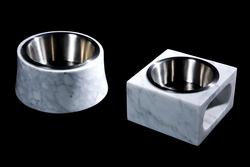 Because marble is the caviar of natural stone what better way to convey exclusivity and glamour
Las Vegas, NV (PRWEB) February 19, 2008
A new line of elegant marble and onyx pet feeding bowls have been launched by Snooty Pets. The new line called Kevy K. Designs appeals to sophisticated pet owners who consider their pets part of the family and want one-of-kind, quality and elegant products to compliment their living environment.
Each stone bowl is exquisitely hand carved and polished to a smooth and seamless finish by highly skilled artist. Each bowl has its own style and unique characteristics which no two bowls are alike. "Because marble is the caviar of natural stone what better way to convey exclusivity and glamour," says Kevin Thomas, vice president of Snooty Pets. The stone range includes rich and warm colors of rare Pink and Blue along with Ruby, White, Honey, Green and Travertine.
The new line will feature three styles: Senora, Lamar and Gisele. Each style offers a unique design and will accommodate tiny to medium size pets. The four inch and seven inch height bowls will provide better digestion and proper eating posture. The solid heavy stone bowls weighting between 4lbs-13lbs will prevent rambunctious pets from moving, tipping over and damaging their feeding bowls.
The excitement of customers who were introduced to luxury pet products for the first time was the inspiration behind the Kevy K. line. Today's upscale customer desires high quality and stylish products for themselves and also for their pets. "People want to be surrounded by the things they love like art, these things make you feel good," says Thomas.
The goal of Kevy K. Designs is to create one-of-a-kind products that combine elegance, functionality and art.
The Kevy K. collection will be launched at the Luxury Pet Pavilion Trade show February 23rd and 24th 2008 at the Westin Bonaventure in Los Angeles. LPP is a gathering that provides luxury pet trade shows for the world's finest purveyors of luxury pet products.
The ultra luxury Kevy K. collection will be available at upscale pet boutiques, gift shops, pet spas and hotels nation wide.
Snooty Pets is a Las Vegas pet boutique specializing in distinctive pet accessories, classy pet beds, designer dog carriers, stylish pet clothes, chic collars, bowls, shampoos, professional grooming services and fresh baked dog treats and cakes.
Contact:
Kevin Thomas
Phone: 702-580-9734
SnootyPets@yahoo.com
http://www.KevyK.com
http://www.snootypets.com
###