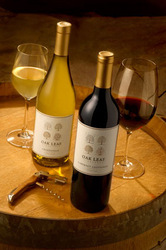 With the economy slowing and as we move into tax season where dollars are tighter, finding value in the wine aisle is ever more important
Ripon, CA (Vocus) February 19, 2008
At the prestigious Florida State International Wine Competition this month, a new brand, Oak Leaf Vineyards from California, has won gold. With 84 wineries competing in Chardonnay category, only four received gold medals and Oak Leaf was the biggest bargain by far, at $1.97 suggested retail price in California and $2.97 in most other states.
"With the economy slowing and as we move into tax season where dollars are tighter, finding value in the wine aisle is ever more important," said Mario Pulido, winemaker for Oak Leaf Vineyards. Oak Leaf Vineyards provides very high quality wine at extremely good prices. Available in five varietals -- Chardonnay, Pinot Grigio/Chardonnay, Merlot, Cabernet Sauvignon and White Zinfandel -- Oak Leaf Vineyards wine looks like wines twice the modest price. The traditional label highlights four seasonal oak trees.
"Our first awards -- Gold and Bronze at the 2008 Florida State Fair International Wine Competition and Silver and Bronze at the 2008 San Francisco Wine Competition show our approach -- 'easy to drink with plenty of flavor' -- is a winning one. With the money you save on wine, your family can enjoy those little extra things in life," continued Pulido.
Oak Leaf Vineyard wines are available nationally at Wal-Mart stores that are licensed to sell wine.
Note to Editors:
Side Bar Story Idea:
Extreme Value Wines mean what they say
Never in the 6,000-year history of wine has there been the choice, the quality, and more than anything, the values, available to the American wine consumer. With 100,000 labels in the market, that consumer can now find what he (and more likely she) wants at prices less than $2.00 a bottle. With tax season approaching and concerns about the current economic climate, everyone wants their dollars to go further. Oak Leaf Vineyards is part of the new set of extreme value wines that are easy to drink, flavorful and over-deliver for a modest price.
For media samples, high resolution images or to speak with the winemaker, please contact Patricia Schneider (415) 717-7595 or patricia9@comcast.net.
###