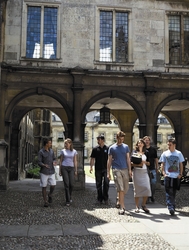 This landmark decision gives the strongest possible signal to young people of all backgrounds that they are welcome to apply to the University of Cambridge. I applaud the University for the removal of what has been a significant barrier to admissions, both in perception and in reality.
(Vocus) February 19, 2008
The University and Colleges have decided to scrap the Cambridge Application Form (CAF) and the associated £10 fee, thus bringing the application process in line with that at other universities.
Subject to final confirmation in the summer when the necessary technical developments have been concluded, UK and EU students applying to Cambridge this autumn for undergraduate courses beginning in 2009 onwards will simply list Cambridge on their UCAS application with their other university choices. After their application has been received, they will be asked to provide additional information through a supplementary questionnaire, in common with applicants to many other universities. It is planned that this questionnaire will be completed online.
Until now, all applicants to Cambridge have been required to submit two forms: a UCAS application, which is submitted online, and a separate CAF, which was sent by post direct to Cambridge by the applicant or by their school/college. They were also then asked to fill in a supplementary application questionnaire.
The CAF has been a feature of the Cambridge admissions process for more than 50 years. Its purpose was to supply Cambridge with detailed information about applicants and to give admissions tutors access to this information in advance of its circulation to universities by UCAS.
The changes reflect Cambridge's determination that its application procedure should be as straightforward as possible for applicants, especially those from "non-traditional" backgrounds.
Dr Geoff Parks, Director of Admissions for the Cambridge Colleges, said: "We have been looking forward to the day when we could discontinue our separate application form since the University started work on the new internal student records system, CamSIS. We are delighted that this is now becoming a reality. The change will benefit everyone concerned: applicants, their schools and colleges."
The deadline for applications to Cambridge will remain October 15; all applicants listing Cambridge among their university choices will need to submit their application to UCAS by this date. This early date for Cambridge applications is necessary due to both the intensive scrutiny each application receives, setting academic achievement within context, and the organisation entailed in holding interviews for more than 12,000 applicants in December, prior to offers being made in January.
As now, applicants will indicate their choice of College on their UCAS application. Students will also continue to able to make an Open application in which they do not specify a College. Open applications are allocated by a computer program to Colleges which happen, in that year, to have received fewer applications per place in that subject than the average number across all Colleges.
The Cambridge Special Access Scheme (CSAS), for applicants whose schooling has been disrupted or disadvantaged or whose family and school have little history of higher education, will continue; a CSAS form should be submitted by October 15. This form is downloadable from the Undergraduate Admissions pages of the University of Cambridge website.
Applicants from outside the EU will continue to be required to submit a Cambridge Overseas Application Form (COAF) to their chosen College or to the Cambridge Admissions Office by post by October 15. Applicants from outside the EU wishing to be interviewed overseas must submit applications by an earlier date of September 20. An application fee will be retained for applicants outside the EU in order to meet the additional costs associated with interviewing applicants in a number of overseas countries.
Schools and colleges across the UK have warmly welcomed these changes.
Dr John Guy, Principal of the Sixth Form College Farnborough, said:
"This landmark decision gives the strongest possible signal to young people of all backgrounds that they are welcome to apply to the University of Cambridge. I applaud the University for the removal of what has been a significant barrier to admissions, both in perception and in reality."
Dave Kelly, Principal of Barrow in Furness Sixth Form College, said:
"I am delighted at the changes to the Cambridge admissions procedures. Our college serves some of the most deprived communities in the country and consequently many of our students have fairly low aspirations. The changes will remove another perceived barrier to potential applicants and students will find the process less daunting. I hope that this will encourage more of our very brightest students to consider Cambridge as an option."
For more information contact: Gregory Hayman, Communications Office, University of Cambridge, Tel: +44 (0)1223 332300, mobile +44 07774017687
###