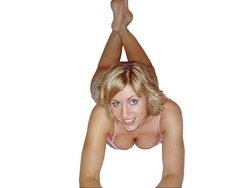 It's fun being a Flux Babe
(Vocus) February 19, 2008
The Flux Babes are already the hottest thing to hit the insurance business and Adrian Flux Insurance Services intends to make them even hotter by adding more Babes to the ranks. And the great news is that anyone visiting the Flux Babes website http://www.fluxbabes.co.uk not only gets an eyeful of the delightful Flux Babes but also gets a chance to look at all the new contenders and vote for their favourite girl.
There are sixteen beautiful new girls to choose from but only the five with the most votes will join their colleagues as fully fledged Flux Babes. Of course, the Flux Babes aren't just pretty faces - they're all insurance executives at Flux's East Winch offices. Most of them deal with the customers daily, speaking on the phone, developing the right insurance package, helping with claims and so on.
But instead of sharpening their pencils in the Flux offices at the moment the girls are busy sharpening up their acts and canvassing for votes. Getting to be a Flux Babe is a sought after position.
"It's fun being a Flux Babe," says Laura, one of the original Flux Babes. "We get to swap our work clothes for skimpy glamour outfits and do some real modelling. It makes a change from being in the office. But it's still hard work!"
It's easy to vote for your favourites and everyone who votes will get a chance to win two VIP tickets to the Adrian Flux French Car Show at Rockingham on Sunday 22nd June, 2008 plus a Sat Nav system to make sure they get there. All you have to do is click on your choice to register your entry. The Flux Babes can be seen in the flesh throughout the summer at various car shows including the Adrian Flux French Car Show.
Visit the Flux Babes Website at http://www.fluxbabes.co.uk to read all about the Flux Babes, see hundreds of pictures from various shows and photoshoots, watch a special Flux Babe video and download a Flux Babe screensaver and game.
To contact Adrian Flux Insurance freephone 0800 505 3000, email the company at quotes@adrianflux.co.uk, or see the Flux homepage on http://www.adrianflux.co.uk
PRESS ENQUIRIES:
New Flux Babes Competition.doc– Feb-08
Toni Turner or Alison Haynes at The Publicity Works
Tel: 01263 761000
Gerry Bucke of Adrian Flux Insurance Services: 0800 505 3000
###