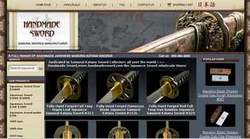 We manage the entire process, from design and forging to quality control; exporting and importing to wholesale and selling hand by hand, step by step
Walnut, CA (PRWEB) February 20, 2008
Handmade Sword Inc., visible online at Handmadesword.com, announces the grand opening of their wholesale house in California. Through both their site and this location in Walnut, California USA, the company will offer a variety of traditional, handmade swords from the Samurai tradition. These include the Japanese style long sword known as the Katana, the medium and short size sword known as the Wakizashi and Tanto blades, Iaido sword and World War II replica collection swords. Also available are sword maintenance kits, blade sharpeners, Masahiro sword sharpeners and all sword accessories.
Handmadesword.com is proud to be an exclusive carrier of one of the top brands of handmade swords in the Samurai tradition, "Furubushidoo," the brand name, meaning "ancient Bushido," signifies its high quality hand forging and adherence to the principles of sword making, which developed throughout the ages of the Samurai warrior tradition and is still continued by collectors and artisans to this day. Bushido, the warrior code based in concepts of loyalty developed from Buddhism, Zen and Confucianism, is honored in these newly minted blades, which are not only perfect as decorative pieces or for use in Iaido (drawing the blade) and Tamishigiri (cutting technique) sword-based martial arts, but are also functional and practical.
"We manage the entire process, from design and forging to quality control; exporting and importing to wholesale and selling hand by hand, step by step," said Branch Manager Jerry Goldman. "This enables us to ensure the handmade swords' quality as well as the best competitive price." As collecting swords, especially the Japanese long sword or Katana, becomes an increasingly popular hobby, having a trustworthy dealer is necessary.
The Handmadesword.com site not only sells high quality samurai Katana and handmade swords, it also offers information on the history of the Japanese long sword, forging techniques, and facts about Samurai and their traditions. The people behind Handmadesword.com are collectors and aficionados themselves, and their interest has fueled the creation of the site and wholesale house.
Jerry Goldman added, "Our goal is to become a leader in the hand-forged sword industry worldwide." To that end, Handmadesword.com constantly adds new swords, as well as providing a custom forging service and custom engraving available by calling the phone number on the Web site.
For more information or to browse the collection, visit Handmadesword.com.
About Handmade Sword Inc.:
Inspired by the ancient Samurai traditions of sword-making, Handmade Sword Inc, visible online at Handmadesword.com, provides a variety of handmade, functional Japanese style swords, including the Katana, the Wakizashi, the Tanto blade, and replica World War II collection swords. The site also provides sword maintenance kits and accessories. The brick and mortar wholesale house is located in Walnut, CA.
###