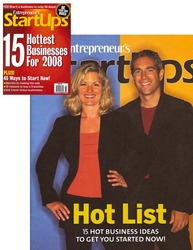 We realize sustainability is a relatively new concept for some of our clients
Pasadena, CA (Vocus) February 19, 2008
Pasadena-based Clean Agency makes the top 15 in Entrepreneur Magazine's 2008 "Hot List" as green consciousness gains a foothold among consumers. But no longer is green the new black. "Clean is the new green," says Seri McClendon, co-founder of Clean Agency.
Businesses serious about sustainability are looking to distance themselves from the greenwashing practices employed by their competitors, and emerge as clean leaders. Doing clean business means finding clean solutions to materials sourcing, manufacturing and packaging.
"We realize sustainability is a relatively new concept for some of our clients," remarks Ken Eskenazi, partner and co-founder of Clean Agency. "But sustainability is incremental – and every step in the right direction, a small triumph."
Members of Co-Op America, a LOHAS Top 25 Marketing Firm, and recipient of the City of Pasadena's Recycler of the Year Award, Clean Agency leads by example and believes the key to doing well is in doing good. To schedule an interview with either Seri McClendon or Ken Eskenazi, contact our public relations department.
About Clean Agency:
Clean Agency provides strategic integrated marketing programs including branding, advertising, media and public relations for companies offering values-based consumer services, retailers selling sustainable or organic product lines, alternative energy companies, sustainable projects for nonprofit organizations and companies that are interested in entering the Green Sector. For more information about Clean Agency, visit http://www.cleanagency.com.
Media Contact:
Kathy Kniss
Kathy @ cleanagency.com
(626) 744–9178 x17
###