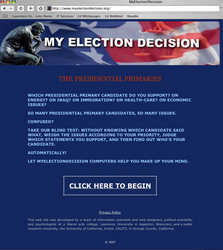 Appleton, Wisconsin (PRWEB) February 21, 2008
As the presidential primary season rolls on, how well do voters know the candidate for whom they intend to vote? Perhaps not as well as they think, says a Lawrence University researcher who helped create a website to help voters identify the candidate that best aligns with their own views on the issues.
Since making its debut, MyElectionDecision.org has attracted more than 7,600 users from 27 countries -- China, India, Iraq, Nigeria and Thailand among them -- who have taken advantage of its interactive questionnaires to help match their views with candidates' statements.
"People using this website have reported being surprised by the candidates they seem to support based on the issues alone," said Lawrence University's Rob Beck, a member of the team that created the site. "Many users have seen that their original choice of candidate was based more on personal characteristics and less on ideas."
Launched in October, and created by a team of Lawrence faculty and staff, in partnership with researchers from the University of California-Irvine, MyElectionDecision.org was aimed primarily at the Internet-obsessed Millennium Generation, but users have spanned all generations. It allows users to take a blind test without knowing which candidate said what, evaluate which issue statements they support, and then, with computer assistance weighing the preferences, find out which candidate most closely supports their own views.
"In an age of sound bites, we're asking people to think more deeply about this election and what the candidates positions are on the issues," said Beck. "What makes MyElectionDecision.org different is that it offers, and requires, a more thoughtful reading of the issues."
Among five issues the Web site asks users to rank in importance on a one to five scale, the war in Iraq, energy, health care and the economy are all in a virtual dead heat for the lead, with the fifth, immigration, trailing only slightly.
The candidate statements used by MyElectionDecision.org are drawn largely from the official web sites of the various presidential candidates or in some cases from recent speeches to ensure they are both current and accurately capture what the candidate wishes to communicate to the public.
"As the primary races tighten," Beck said, "I hope voters will finally see that there are substantive differences among the candidates' positions."
MyElectionDecision.org is one of several initiatives launched last fall in response to a challenge issued by Lawrence University President Jill Beck to the members of the Lawrence community to increase their political awareness and become more involved in participatory democracy.
Among them is a special seminar on political engagement and student activism that is being team-taught by President Beck, Rob Beck, and William Skinner, director of institutional research.
Students in the class have surveyed more than 500 of their classmates to determine what issues are most important to college-age voters. Preliminary results indicate environmental issues, funding for K-12 education and arts, the war on terror, reproductive rights and civil liberties were among the most important to the students from a list of 15 issues.
The completed surveys will be analyzed and the most popular issues will be added to the MyElectionDecision.org questionnaires.
Lawrence senior Nathan Litt, 22, a government major from Sheboygan, Wisconsin, was one of the students who conducted the on-campus survey. He said the experience of talking politics with his fellow students exposed him to much of the excitement that is building for the election.
"Young voters are becoming more engaged and turning out at the polls and candidates have to recognize the impact we're having on the election," said Litt, who was surprised to discover after taking the MyElectionDecision.org survey that the candidate who best matched his answers wasn't the same one he planned to vote for. "I like the fact that the role of the young voter has increased."
About Lawrence University
Charting an uncommon course in higher education for more than 160 years, Lawrence University uniquely integrates a college of liberal arts and sciences with a conservatory of music, both devoted exclusively to undergraduate education. It ranks among the nation's best small, private colleges, and was selected for inclusion in the book "Colleges That Change Lives: 40 Schools That Will Change the Way You Think About College." The development of multiple interests and community engagement are central to the Lawrence experience, where classes or creative and research projects tailored to students' educational interests and life objectives are prevalent. Lawrence draws its 1,400 students from 43 states and 50 countries. Its picturesque, residential campus is nestled on the banks of the Fox River in Appleton, Wisconsin. For more information about Lawrence University visit http://www.lawrence.edu.
###