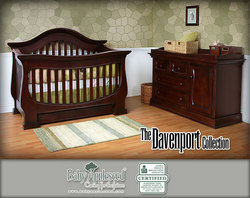 We invested the time and effort to JPMA certify our cribs because we want to ensure that our customers will receive safe and top quality furniture when they purchase Baby Appleseed furniture
La Puente, CA (PRWEB) February 20, 2008
Appleseed recently announced that Davenport Crib and Millbury Crib collections are JPMA Certified. "This is an exciting time for us, and we are very happy to be the new addition to the JPMA certified crib family", said Neill Herbert, president of Baby Appleseed. "We invested the time and effort to JPMA certify our cribs because we want to ensure that our customers will receive safe and top quality furniture when they purchase Baby Appleseed furniture".
Neill Herbert also indicated that Baby Appleseed has seen phenomenal growth in the past two years. This incredible growth has surprised the owner and the industry itself. "Needless to say we were all surprised at how quickly the demand for our products and the brand grew" said Herbert addressing the company's rapid growth. "This in itself created some very difficult growing challenges for our young company. In fact, our first factory had difficulty keeping up with the increase in demand. With our unwillingness to compromise the quality and shipping schedule of our products, we started a very extensive search process for a new manufacturing plant that can keep up with the increased volume while maintaining the high quality of our baby furniture."
"We felt it was very important not to just hand production over to just any factory to meet current demands. Instead, we wanted to look for the long term supplier solution. We spent a great deal of time selecting an established and proven factory source to partner with," said Herbert.
Baby Appleseed is pleased to announce that we have begun shipping baby cribs and furniture made at this new and improved factory. As Herbert pointed out, "The fruits our labor can be seen today in the products that we are shipping."
About Baby Appleseed
Baby Appleseed, http://www.BabyAppleseed.com, is the premiere infant nursery furniture company offering high end baby cribs and cases. The company was founded in 2004 with a team that has over 25 years of combined experience in the juvenile furniture industry.
About JPMA
The Juvenile Products Manufacturers Association, Inc. (JPMA), http://www.JPMA.org, is a national trade organization representing 95% of the industry including 300 companies in the U.S., Canada and Mexico. JPMA developed an extensive Certification Program to help guide parents and caregivers toward purchasing juvenile products that are built with safety in mind. JPMA exists to advance the interests, growth and well-being of the juvenile products industry through advocacy, public relations, information sharing and business development opportunities.
###