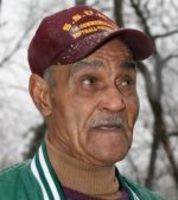 The developers are attempting to drive us from our ancestral homes with the cooperation of the people we put in office. We need help and we need it now
Sandy Spring, MD (PRWEB) February 21, 2008
A kinship community of African Americans, in the shadow of Capital Hill, claim they are being forced from their ancestral lands by government officials. Tuesday, residents prevailed upon their County Executive to "make a phone call" to help them, rather than take the County's advice and file suit against it. The residents plan a second demonstration bus tour to politicians' homes to bring attention to their plight. The group's first demonstration tour on Martin Luther King's birthday resulted in an impromptu meeting with the Maryland Attorney General, Doug Gansler, in front of his home. The Attorney General claimed his office lacked jurisdiction and vowed to facilitate a meeting with the United States Attorney. The residents' problems began when plans for a neighboring subdivision were submitted to the local planning authority without any reference the residents' road -- a road which appears on maps dating back to the 1800s.
The residents, including the descendants of Freedmen, say they are at risk of losing their properties because of ongoing government complicity in, and indifference to, their plight. "The Attorney General and State Legislators say it's a Federal or County issue, the County officials claim it's a State issue, and our officials say we should not involve the media if we expect to get any of their help," said Michele Awkard, mother of five.
These desperate, but determined, residents plan to deliver a message to government officials: "Since you won't let us live on our land, we thought perhaps we could live on yours." The second demonstration bus tour is scheduled to occur soon, the exact date and destinations the residents are keeping secret. The event is intended to educate the public on the core issues that are causing officials to refuse to help some of the County's most vulnerable residents.
"The developers are attempting to drive us from our ancestral homes with the cooperation of the people we put in office. We need help and we need it now," said 85 year old Robert Awkard. "I traveled the road since I was a child, as did my father and grandfather. Anyone can see the road, but they [the Maryland National Capital Park and Planning Commission] say it doesn't exist." Consequently these family's properties have become landlocked, making it impossible to sell their properties for any more than pennies on the dollar or to obtain building permits.
The residents asked for the help of a fraud detection expert and volunteer advocate, Steve Kanstoroom. Kanstoroom found that Farm Road exists in the chains of title of each property located along the road, on a State Property Map, the most recent Planning Department's topographical map and other documents. Kanstoroom also found that the Planning Department's records show it has issued addresses as recently as 2002 upon the very road it now claims does not exist.
Despite calls for action by the Montgomery County Inspector General, officials have refused to act. "I tried to obtain an address for my property," said William Rounds. "First planning officials refused to wait on me; then they sent me on a wild goose chase for a change in the Maryland Property Map. Even after getting that, they still refused to give me an address. Yet owners of neighboring million dollar houses are somehow are getting addresses," said Rounds.
Rounds' aunt and grandmother used to live on neighboring parcels. A realtor suggested that Rounds sign a twenty-five thousand dollar note for an alternative access since the planning authority claimed Rounds' properties were landlocked. The note comes due next month and Rounds fears losing his properties. His neighbors signed a similar note for seventy-five thousand dollars. The note-holder ended up owning that property.
The Sandy Spring Justice Fund has been formed to accept donations to help raise public awareness of the victims' plight and find a law firm willing to take their case on a contingency or pro bono basis.
Farm Road runs along the Sandy Spring Slave Museum. The road is believed to be part of the historic Underground Railroad.
For additional information or to make a donation go to http://www.SaveSandySpring.org.
###